CapaCITIES Webinar Emphasises Participatory Governance for Building Climate Resilience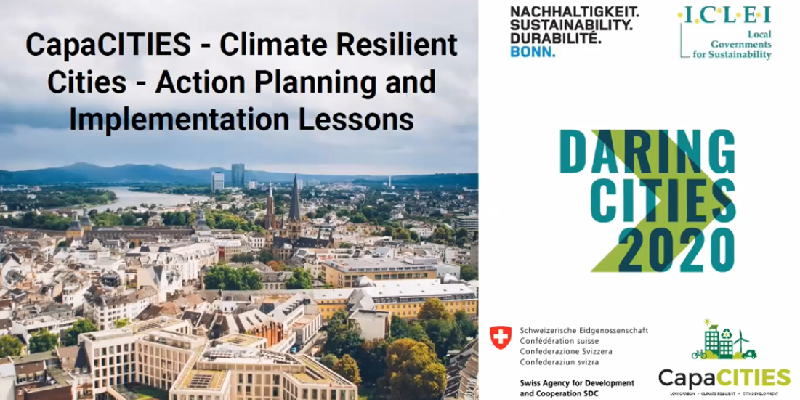 At Daring Cities 2020, a global, action-oriented virtual forum to empower urban leaders around the world to tackle the climate crisis, the CapaCITIES project convened a panel discussion on "Climate Resilient Cities Action Planning and Implementation Lessons". Watch here.
The CapaCITIES project in India, supported by the Swiss Agency for Development and Cooperation (SDC), aims at enhancing capacities at multiple levels of governance for lowering greenhouse gas emissions and increasing climate resilience by mainstreaming integrated climate action planning and implementation within the urban development paradigm.
During the session, senior representatives from agencies at national, sub-national and local levels discussed challenges, lessons learned and good practices with respect to climate action planning and implementation, and also showcased the climate actions that have been successfully implemented in Indian cities, especially under the CapaCITIES project.
Setting the context, Dr. Jonathan Demenge, Head of Cooperation, SDC, India, appreciated the Ministry of Housing and Urban Affairs (MoHUA) for encouraging Indian cities to adapt climate-resilient development paradigms, and also the work of Rajkot and Udaipur cities in taking climate action through the CapaCITIES project.
Mr. Kunal Kumar, Joint Secretary and Director, Smart Cities Mission, MoHUA, emphasised the need to work collaboratively to create a prominent space for nature and to work with academic institutions to address India's urban challenges now and in future. He also highlighted that a sustainable lifestyle, placemaking for such a lifestyle, participatory governance and nature-based solutions are avenues to address urban development issues.
Mr. R Srinivas, from the Town and Country Planning Organisation, Government of India, opined that the way forward was to sensitise town planners towards mainstreaming climate and disaster resilience in master plans/zonal development plans and local areas plans. Mr. Hans-Peter, Director, Public Affairs, South Pole group, Switzerland, shed light on green finance for climate action, and talked about economic opportunities, job creation and value addition from a sustainable future being important elements in climate financing and green investments.
Mr. Hitesh Vaidya, Director, National Institute of Urban Affairs (NIUA), while moderating the panel discussion between city representatives, spoke on the role of the NIUA as a think-tank in providing tools that cities could use, sharing knowledge and experiences, building capacities through different channels and working with partners such as ICLEI to try and build a climate alliance. Mr. Udit Agrawal and Mr. Qummer Choudhary, Municipal Commissioners of Rajkot and Udaipur, respectively, presented the climate actions implemented in their cities and their vision for low-emission development and climate resilience.
A global audience of about 110 attendees from 22 countries, including representatives from inter-governmental organisations, attended the session. Please click here to watch the recording of the session.