A bag full of meetings and of fun – Ingredients that made the Annual Retreat 2014 memorable!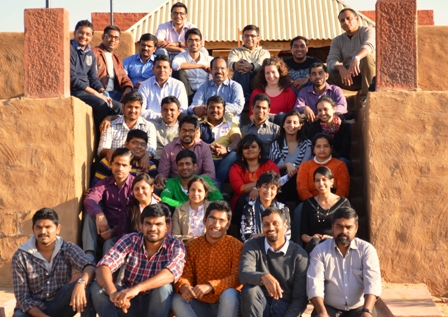 The Annual retreat for ICLEI South Asia was held at Osian, Jodhpur from 28th January 2014 to 1st February 2014 where the staff from all Indian offices of ICLEI South Asia came together to take a glance at the past year at ICLEI South Asia, come up with myriad ideas and take a look at the new projects and areas of work planned for the current year. The staff retreat was also a chance for interaction, knowing each other better on a more personal platform while also taking part in several team building activities.
The two days of intense and interactive meetings helped staff take stock of the achievements of the past year, pinpoint challenges faced and the solutions applied to overcome them, as well as strategically look into the New Year and brainstorm on new areas for ICLEI South Asia to be explored.
From developing guidelines on low carbon growth, supporting local governments in preparing City Sanitation Plans, carrying out sustainable waste management practices, implementing Renewable Energy and Energy Efficiency projects or becoming more resilient to climate change, to strengthening South-South cooperation and facilitating a transition to a non motorised transport approach and to sustainable infrastructure, ICLEI South Asia can pride itself on a number of achievements and concrete contribution to South Asian cities. Motivated by such a successful year behind, ICLEI South Asia is now looking into further exploring new areas of work, such as green growth, food-energy-waste nexus approach, climate financing and eco-procurement.
ICLEI Staff also spent a day at the Water Retreat Centre, an initiative by the Jal Bhagirathi Foundation, where staff were given a tour of the water resource centre showcasing traditional water harvesting practices and its successful usage. The trip also included a field visit to a nearby village where staff were shown traditional ways of water harvesting done by villagers and adoption of sanitation practices. The trip included exploring local villages and cultures, team-building activities, camel rides, jeep safaris, site seeing and cultural evenings. The trip indeed served a dual purpose – Learning and putting heads together in planning and pondering while also diving deep in fun and entertainment.
"The past year has taught us many things, we have learnt and we have grown… Let us all work together towards a promising future replete with great ideas, amazing opportunities and splendid collaborations! Let us make our cities greener and happier."
– Emani Kumar, Executive Director, ICLEI South Asia.