Addressing Urban Biodiversity and its Role in Urban Climate Resilience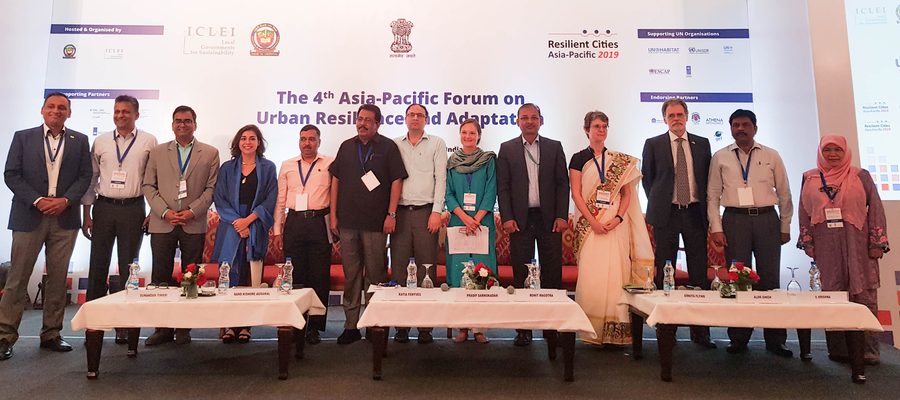 The Nature Based Adaptation Solutions session focused on the efforts and initiatives being implemented in various cities and city-regions on nature-based solutions to build urban resilience and addressed questions such as how alternative approaches to infrastructure development, e.g. nature-based solutions, contribute towards both improved service delivery and building urban resilience, how existing institutional tools and processes (e.g. EIA) can be adapted to integrate biodiversity into urban design and plans and how a strong investment case can be built to mainstream biodiversity into urban infrastructure development.
Modifying and managing existing ecosystems to better deliver ecosystem services was a core message discussed at the session.
It was also noted that articulating the connections between nature and economy, between urban and rural, and building awareness about this will help citizens and businesses act in ecologically and economically beneficial manners.
"On the 5th November 2017 there was a major disaster of a flood where we received one month's worth rainfall in six hours. It was also a blessing because we learned a lesson which is the need to be resilient. To overcome this we took a pledge that every department in the city will outline 10 strategic priorities which will help us to systematically achieve our vision of building a climate resilient city," said Norzila Binti Abdullah, Mayor of Seberang Perai Municipal Council, Malaysia.
Focusing on cities, C Rajan, Director, Centre for Heritage, Environment and Development, Kochi Municipal Corporation, India, said, "Conserving urban biodiversity is of utmost importance for Kochi especially in the context of climate change. Kochi Municipal Corporation is strongly espousing this cause and has been doing everything possible to preserve Kochi's rich but fragile ecosystems along with its biodiversity. We solicit support from national and international organizations for our efforts to save our ecosystem for posterity."
Ingrid Coetzee, Senior Manager, ICLEI Africa Secretariat, presented the Cities With Nature initiative explaining that it is a platform to make it easy to help and support cities.
"Cities need tools to make arguments for investment in urban nature. Spatialising ecosystem services provides an inspiring and tangible mechanism to simulate appreciation and motivation for the benefits of urban nature," said Ernita Flynn, Senior Professional Officer, ICLEI Africa Secretariat.
The session was moderated by Sunandan Tiwari, Senior Program Manager, Global Projects, ICLEI World Secretariat. The speakers were: Battulga Erkhembayar, Ulaanbaatar Environmental Department, Ulaanbaatar; Ingrid Coetzee, Senior Manager, ICLEI Cities Biodiversity Centre, ICLEI Africa Secretariat; Konrad Uebelhör, Director, Indo-German Biodiversity Programme, GIZ GmbH; C. Rajan Director, Centre for Heritage, Environment and Development, Kochi Municipal Corporation.
The panel included: Ernita Flynn (van Wyk), Senior Professional Officer, ICLEI Africa Secretariat; Katia Fenyves, Project Officer, ICLEI South America; Pradip Sarmokadam, Member Secretary, Goa State Biodiversity Board; V Krishna, Additional Commissioner, Greater Hyderabad Municipal Corporation, India; Nand Kishore Agrawal, Programme Coordinator, Adaptation and Resilience Building, ICIMOD, Nepal; Rohit Mangotra, Integrated Research and Action for Development, India; Alok Singh, Director, Horticulture, South Delhi Municipal Corporation, India.
(Written by Subuhi Parvez from ICLEI South Asia)