Clean Air for Blue Skies: Activities Put Focus on Air Pollution in National Capital Region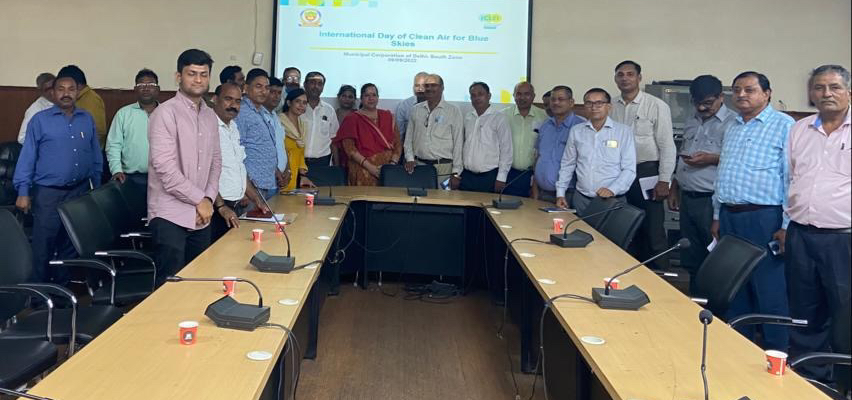 ICLEI South Asia conducted several activities in Meerut and Delhi to mark the International Day of Clean Air for Blue Skies on the 7th of September 2022, under its ongoing project Building City Leadership on Clean Air Action in Delhi-National Capital Region, funded by the Clean Air Fund. The International Day of Clean Air for Blue Skies is observed globally on September 7 to highlight the significance of improving air quality and reducing air pollution.
An awareness programme was organised in Meerut in collaboration with Meerut Nagar Nigam and the Environment to make children understand the importance of clean air for health, human productivity and the environment, and the significance of the air quality index.
In the Delhi event, which was attended by Shri Anil Kumar Singh, Principal Secretary, Department of Environment, and Dr K S Jayachandran, Special Secretary, Department of Environment, Government of the National Capital Territory of Delhi, a presentation was made by ICLEI SA project team on capacity building and public outreach for controlling air pollution. It also covered initiatives being taken for transitioning towards zero waste and air pollution abatement through green cover, two sectors that are being addressed under the National Clean Air Programme (NCAP). The move towards zero waste is helping the city government to promote zero-waste colonies and green cover enhancement to reduce air pollution.
A workshop was also conducted to sensitise sanitation inspectors at Municipal Corporation of Delhi (MCD) South Zone on spurring the NCAP targets on dust mitigation, efficient waste management, green cover enhancement, and adaptation of non-motorised transport. Mr. Razi Alam Khan, Assistant Commissioner, Municipal Corporation Delhi- South spoke about the importance of the International Day of  Clean Air for Blue Skies and how city officials could help to reduce air pollution. The project team from ICLEI SA interacted with city officials on their work related to air quality, showing videos on how air pollution affects human health, and discussed ways of reducing its impacts on marginalised people.