BLOG: A Road to Resilience, Implementing ICLEI-ACCCRN Process in Bangladesh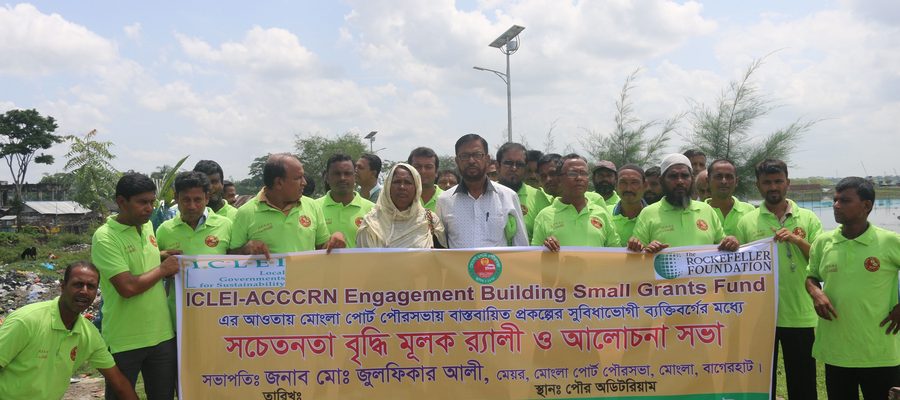 By Md. Jubaer Rashid
The ICLEI ACCCRN Process (IAP) has been developed by ICLEI – Local Governments for Sustainability's South Asia and Oceania offices through involvement with the Rockefeller Foundation supported Asian Cities Climate Change Resilient Network (ACCCRN) program. The IAP enables urban local governments to assess their climate risks and build climate resilience. With the support from Rockefeller Foundation, ICLEI South Asia has implemented IAP in 40 cities recently including 7 cities of Bangladesh and developed City Resilience Strategies (CRS) to improve their capacity to plan, finance and take action to promote urban resilience. Barisal, Mongla, Singra, Rajshahi, Sirajganj, Kushtia and Dinajpur are among those from Bangladesh under this project. Now, these cities have their own CRS those include city climate risks assessments and policies as well as to fight with climate vagaries and could implement corresponding resilience strategies.
Most of the cities of Bangladesh have been selected in respect of climate impacts and Urban Climate Change Resilience (UCCR) priorities defined by Rockefeller Foundation. Before implementing IAP, a brief interest has been collected from cities through formal invitations and MoU has been done with all cities after finalisation. All the process followed to the first four phases of IAP, which is designed in a step-by-step format and divided into six phases. All phases of IAP include (i) engagement – forming climate core team and stakeholder groups for each city, (ii) climate research and impact assessment – understanding systemic fragilities, identification of fragile urban systems, identification of climate risks, existing and anticipated impacts of climate risk on the fragile urban systems, (iii) vulnerability assessment – exposure, sensitivity and adaptive capacity assessment of fragile urban systems and vulnerable actors, identification of vulnerable areas and consolidation of vulnerable hotspots, (iv) resilience interventions identifications – identification and prioritisation of resilience interventions and interlinkages of resilience interventions with ongoing or upcoming programmes and projects of cities, and (v & vi) implementation, and monitoring & review – after identifying the resilience interventions for the city, concrete project implementation plans can be prepared. Opportunities for financing and implementing these projects need to be explored. In all cases, monitoring and review remains a mandate of the city government, with active involvement of the Climate Core Team.
The Climate Core Team has been formed for each city consisting 3 to 5 members headed (Chairperson) by the Mayor or Chief Executive Officer or Chief Engineer as well as suggested by the city authority. Purpose of forming this climate core team is to develop a responsible body for driving the IAP in the city, representing the interests of a wide spectrum of the city government's operations. Moreover, there formed Stakeholder Group for each city too – to identify the key stakeholders that need to be involved in the process and the most appropriate ways of engaging them. All the assessments had carried out on the basis of stakeholder consultation methodology called "Shared Learning Dialogues (SLD)" and desktop studies on primary data for meteorological analyses, and identification of past hazards and climatic events. But, the major challenges have faced during all of these processes are the data availability – at city level, city and its sectorial department's responses – all of city's responses were not same and not cooperative as well, and the people participation in SLDs. However, these challenges have been overcome by multiple sittings with technical staffs (engineers, planners) of municipalities and city corporations. Some national reports on disaster and climate change also helped to evaluate the scenario of cities.
The result shows that most of the cities have been facing challenges with cyclone, cyclonic storm, flood followed by cyclonic storm, and flash flood for Barisal and Mongla, and drought, river erosion, tornado, nor'wester, heat and cold wave, excessive rainfall for Rajshahi, Singra, Kushtia, Dinajpur and Sirajganj, based on their geographic locations. Common slow-onset hazards identified are increasing temperature, sea level rise, irregular rainfall and its associated hazards are listed above. Common fragile urban systems identified are water supply, solid waste management, sanitation, health, economy, storm water drainage, land use, transportation, peri-urban agriculture, biodiversity, and ecosystems. Their impacted areas were identified and plotted in to the maps to produce climate risks maps for each fragile urban system. Thus the vulnerable hotspots maps have been generated for these 7 cities.
A sample map of vulnerability hotspots for Rajshahi city:
The climate risk assessments were conducted for all fragile urban systems based on their likelihood and consequences. Risk assessment, scoring, actors identification and their adaptive capacities were identified through SLDs. This process was followed to formulate resilience interventions too, in a way of adaptive measures. The resilience interventions mostly included resilience score calculated and how to link with existing city plans and schemes so as to determine whether the required interventions can be integrated with little or no additional resources into existing departmental programs or projects.
A Small Grants Programme (SGP) was also constituted under this project by Rockefeller Foundation and administrated by ICLEI South Asia to provide financial assistance to implement some of the resilience interventions identified in CRSs in some cities. It was used to support innovative and result oriented interventions to build resilience in these 2 cities out of 7 as per fund availability. The cities of Kushtia and Mongla have received this fund to implement a pilot resilience building initiative in the city.
For Kushtia, the IAP assessment identified that flood is occurring in every monsoon in Kushtia. It creates water logging on the surrounding area of the project site that interrupts the normal growth pattern of the plants of that area. The drainages going to be built under this proposed project will ensure the proper backward and forward water flow throughout the area that are expected.
So, the fund has been allocated to improve the flood and drainage condition of Gorai Ashroyan Phase-2 area with low-income and 4,000 slum population by implementing the project titled "Construction of RCC Drain & Supporting Road to Save and Improve the Life Standard of the People at Gorai Ashroyan Phase-2". The project has three major parts: construction of roads and drains; conducting workshop with the stakeholders on climate change issues; and raising awareness regarding the impact of the project on climate change related issues.
The Municipality is expecting that after the implementation of this project, people can commute without much hassle. The initiative will also ensure convenience in moving and transporting goods to and from their home during a flood.
In Mongla, the project on "Improvement of Urban Drainage System to Manage Flood Risk by Incorporating Climate Adaptation Measures" includes both stakeholders' awareness building programme and construction of drains. This project has also undertaken as per IAP assessment – major challenges that the city is facing now are mostly water logging and salinity in rainy season. This is also happening for tidal influences of the rivers. Moreover, the city is experiencing more cyclones and storm surges in day by day for changing climate and its impacts. Main bazaar area (ward no-05) and densely populated areas (ward no 2, 5) are mainly facing this water logging in all seasons due to unavailable of proper drainage system.
Through the implementation of this project, the residents will be directly benefitted by increased mobility and transportation services during floods, and reduced vulnerability to both vector and waterborne diseases. The residents will also get access to uncontaminated surface water. Besides, the Municipality will also get a well-managed drainage system that will reduce the yearly maintenance and improvement cost for drains. Finally, the city health department will be benefitted as for reduced loads of patients and medical services to be offered.
The ICLEI-ACCCRN Process toolkit and summary of each City Resilience Strategies can be found from ICLEI South Asia website (southasia.iclei.org).
The writer works as a Senior Project Officer (Sustainability Management), Bangladesh Operations at ICLEI – Local Government for Sustainability, South Asia.