Can Cities Act As Drivers of Electric Mobility Adoption?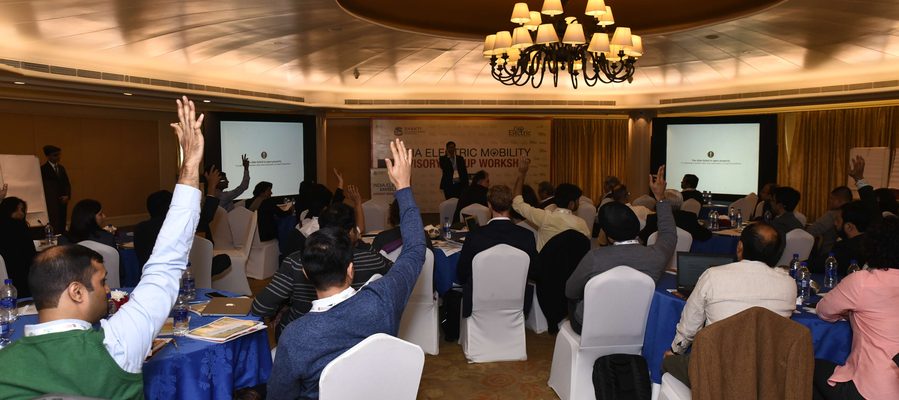 ICLEI South Asia participated in the India Electric Mobility Advisory Group Workshop which was held on the 11th of December, 2018 in New Delhi. The Electric Mobility Initiative was launched by Shakti Sustainable Energy Foundation, in 2018, to support India's ambitious goal to usher in electric mobility in a big way. The initiative aims to facilitate knowledge transfer, policy analysis and research as well as capacity building and implementation efforts for the uptake of electric mobility solutions in India.
As an important stepping stone to creating a way forward for the initiative, this national workshop was organised where over 60 transport and civil society practitioners participated to discuss opportunities for near and long-term action, with a focus on charging and grid infrastructure, shared and connected mobility, air quality and electric buses.
Mr. Ashish Rao Ghorpade, Deputy Director, ICLEI South Asia, talked about Cities – As Driver of E-mobility as well as Shared and Connected Mobility, along with Ms. Akshima Ghate, Rocky Mountain Institute. They mentioned that cities can act as drivers of electric mobility adoption stating that nearly 35% of passenger vehicles in India are in the 53 million-plus cities that inhabit only 10% of the population.
Mr. Rakesh Batra, Partner and National Leader-Transport, EY India gave a special address at the workshop providing a perspective on how future mobility business models are rapidly evolving.
Looking ahead, the Electric Mobility Initiative will continue to work towards accelerating the introduction and adoption of electric vehicles in India.