CDKN Facilitates Discussion on How to Enhance Effective Communication of Climate Knowledge to Meet Sub-national Needs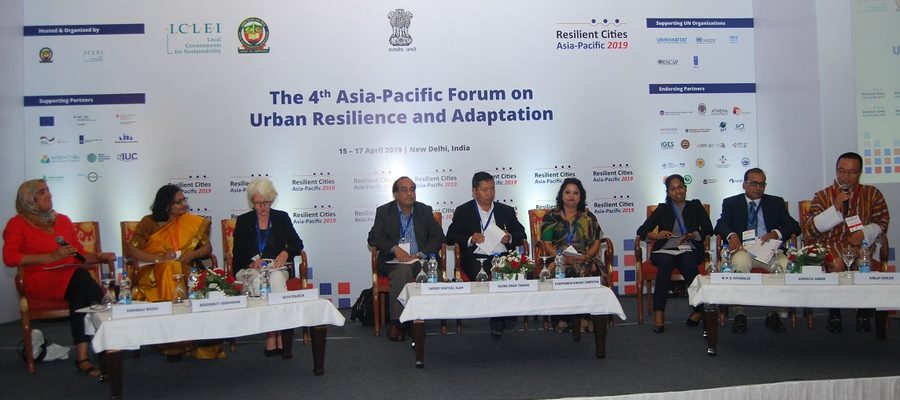 ICLEI South Asia, with the support of the Climate and Development Knowledge Network (CDKN) organised a panel session on the effective communication tools and pathways that can be adopted to meet climate knowledge needs. The session was held on Day 3 of the 4th Resilient Cities Asia-Pacific Congress 2019 in New Delhi.
During the panel discussion, Kinlay Dorjee, Mayor, Thimphu, shared, "Economic development is necessary but environment sustainability will come first. We need to slow down to ensure we leave a healthy, sustainable planet to the future generations."
Some of the core messages discussed were:
• Localizing the climate information to invest in climate solutions: Addressing local issues shows impacts at regional level.
• Need to involve the academia, research institutes, youth, women and other relevant stakeholders to improve planning process and to disseminate knowledge and information.
• Cities have to be ready to receive climate migrants.
• There is a need to integrate rural and urban stakeholders for integrated climate planning.
"Pilot projects are also about introducing innovative technologies. They are important as it is crucial to test the project on smaller scale before introducing it on a large scale," said Ruth Erlbeck, Project Director, The Urban Nexus, Regional GIZ.
It was further discussed that the action on climate and the impact of disaster risk information and research findings are dependent upon effective communication. And, for communication to be effective it is important to demystify the scientific language in a format understandable by its audience and making it easily accessible.
Shehnaaz Moosa, Director of the CDKN, moderating the session.
On the same lines, W.H.D Shyamalee, Deputy Municipal Commissioner, Matara, Sri Lanka, said, "We need information on climate change to implement plans and projects efficiently. I request the academia and researchers to share downscaled climate knowledge that can be used in planning."
The discussion from the session helped improve understanding of the knowledge needs at the sub-national level and identify ways and means to meet these needs. It will also help CDKN to design its next course of programmatic action in the region – especially for India, Nepal and Bangladesh.
Closing the session, Shehnaaz Moosa, Director of the CDKN, pointed out, "Climate is a complex problem that needs input from range of stakeholders."
The session was moderated by Ms. Moosa and the panel included: Sarder Shafiqul Alam, ICCCAD, Bangladesh; Kinlay Dorjee, Mayor, Thimpu, Bhutan; Rudra Singh Tamang, MOFAGA, Nepal; Hariprabha Khadgi Shrestha, Deputy Mayor, Kathmandu, Nepal; W.H.D. Shyamalee. Deputy Municipal Commissioner, Matara Municipal Council, Sri Lanka; Ashraful Haque, Chief Engineer, Rajshahi City Corporation, Bangladesh; Ruth Erlbeck; Bedoshruti Sadhukhan, Senior Programme Coordinator, ICLEI South Asia.
(Written By Subuhi Parvez from ICLEI South Asia)