CDKN Invites Stakeholders for New Phase Launch in India and Bangladesh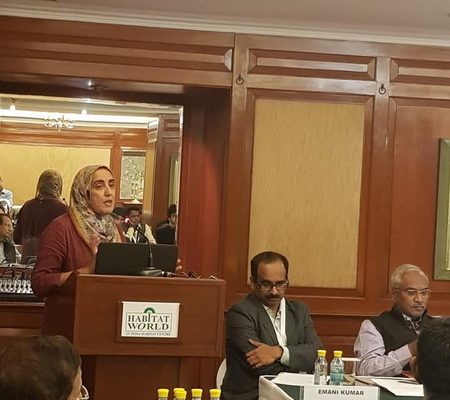 The Climate and Development Knowledge Network (CDKN) launched its new phase in Bangladesh and India on the 19th and 20th of November respectively.
ICLEI South Asia is one of the four supporting partners in this programme along with non-profit organisations SouthSouthNorth, Fundación Futuro Latinoamericano, and the Overseas Development Institute.
In the new phase, CDKN will focus on deep engagement with countries like India, Bangladesh and Nepal, and provide them with enhanced knowledge resources to support ambitious climate action, as well as boost learning on climate compatible development.
"The latest IPCC report on Global Warming of 1.5°C highlights the need for urgent action on climate change in the Asian context – a region already suffering grave impacts at the current 1.C of average warming. Now more than ever developing countries need relevant and useful knowledge on how to respond to the climate challenge – and to rapidly share learning on how to deliver climate action on the ground. This will be a key focus of CDKN in the coming years. We are excited to be launching CDKN's new phase in Asia, building on seven years of work in the region to bridge knowledge and action on climate compatible development," said Shehnaaz Moosa, CDKN Director.
Gender Equity and Social Inclusiveness, Water, Food and Energy, Nexus, Climate Finance and Cities were some of the topics addressed at the events.
CDKN's initiative, with support from Canada's International Development Research Centre and the Royal Netherlands Ministry of Foreign Affairs, will help individuals and organisations to share knowledge on how climate change is affecting water, energy and food security and cities, and how gender and social inclusion and new finance mechanisms can bring about sustainable development. CDKN will also aim to facilitate interaction between various governments and non-government actors, supporting them to access climate and development knowledge that enhances resilience.
Speaking on the occasion, Dr. Mozaharul Alam, UNEP, Bangladesh spoke on the importance of involvement of the government.
"Since the government drives the development in the countries, and will continue to revise the NDCs, CDKN should engage with all government sectors that are part of the process to be able to make a difference," he said.
Ms. Kalyani Raj, All India Women's Conference, shed light on gender inclusivity in terms of climate change policies.
"In 2001, when gender was brought into the COP dialogue in Marrakech the main question was why, but in 2016, the main question changed to how can it be incorporated. So, there has been progress. At the local level, we are working towards inclusion of gender in climate change policies," she said.
Addressing Climate Finance, Mohd. Afzal Hossain, GIZ said, "Bangladesh is good in adaptation, the capacity to adapt is built in. We need to bring together everything that is done. It is better to do it programmatically and not as a project approach. We need to see how much is possible through CDKN".
"We finance through annual development program – if we have access to information on the utility and impact of resource use in different departments – we can decide where to allocate money," said Dr. Nurun Nahar, Bangladesh Planning Commission.
Beyond Asia, the initiative will also focus on the Andean countries of Latin America, and parts of Africa. There will be the chance for other countries to join its wider learning and exchange activities.