Children, Caregivers Find Life under Lockdown a Challenging Experience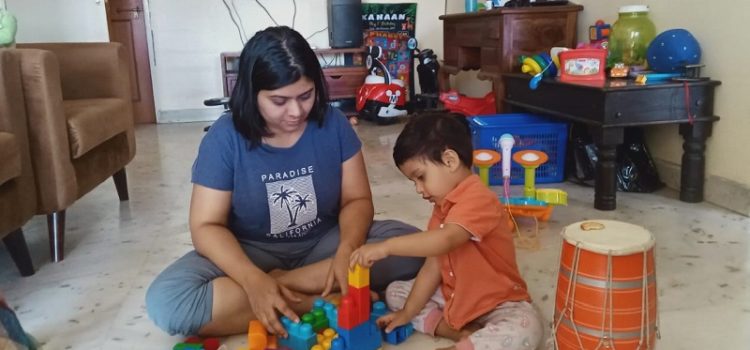 India continues to be under a national lockdown that was imposed in the third week of March to curb the spread of the Covid-19 pandemic. This length of time would be enough to test the patience of most people, but young children, who cannot fathom why they are being asked to stay indoors for weeks on end, are perhaps facing a particularly challenging time.
The strict conditions of the lockdown have left them confined to their homes, away from their schools, friends and outdoor play. In urban areas, where the large majority of families live in limited domestic spaces, such a situation could increase stress and anxiety. It has become more important than ever for caregivers to spend time with their wards and to protect their mental well-being.
ICLEI South Asia has been implementing several child and toddler-friendly interventions in Udaipur city, as part of the Bernard Van Leer Foundation's Urban95 project since 2019. These activities seek to transform neighbourhood and school areas into engaging child-friendly zones. The public engagement under the project has been postponed till the lockdown is lifted. Meanwhile, the ICLEI South Asia team has been reaching out to several families to find out how they and their young children are coping with the unprecedented situation. According to some of the responses, their children have been happy to have family members around all day, who try to keep them suitably engaged in indoor games and interesting activities.
However, with the lockdown period getting extended, some parents are also reporting rising anxiety, restlessness, changed sleep and diet patterns and irritability among children who are missing fresh air, play and contact with other children, their grandparents and relatives.
Another matter of growing concern is the economic and health impact of the pandemic on families and, consequently, on children, the most vulnerable section of society. While the physical activities of many children have been replaced by more screen time and some amount of boredom, those in families that are facing financial problems or job losses are possibly going through very difficult times. And, as health systems get overstretched while dealing with Covid-19 cases, the basic needs of pregnant women and small children would need more support.
Meanwhile, children and their parents in Udaipur are looking forward to spending time in parks and on the lakefront, and meeting their friends again, once the lockdown is lifted completely.