Cities of the world band together for urban biodiversity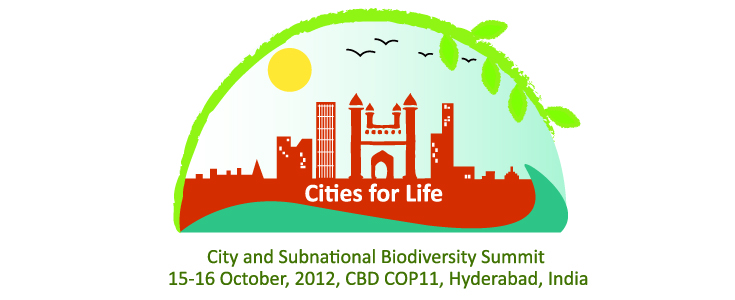 One day away, Cities for Life: a city and sub-national biodiversity summit being held parallel to the CBD COP 11 in Hyderabad, is gearing up to surpass the considerable success of the 2010 City Biodiversity Summit in Nagoya, Japan.
Over 400 participants are registered to attend the two-day Summit on 15 and 16 October 2012, including over 200 international participants. A hundred cities will come in, from every major region in the world. Participants include city and sub-national leaders, representatives of national governments, international organizations, and UN agencies; as well as specialists from across the world, in a move to convene local authorities in support of the implementation of the Convention on Biological Diversity.
Cities are increasingly interested in preserving and conserving biodiversity in urban areas and local action is one of the key drivers of the success of the implementation of the Convention. The commitment towards enhancing and conserving local biodiversity is evident in the large turnout of international cities at Cities for Life. In support of this growing movement, ICLEI – Local Governments for Sustainability and the Secretariat of the Convention on Biological Diversity are collaborating with the Government of Andhra Pradesh, the Greater Hyderabad Municipal Corporation and the Government of India to organise the summit at the Hyderabad International Convention Centre.
The Summit will feature a high-level interactive dialogue between local and sub national governments from across the globe, aiming to help them implement Decision X/ 22 and the associated Plan of Action on Sub national Governments, Cities and Local Authorities for Biodiversity (2011-2020). The purpose of the meeting is to take stock of progress since the City Biodiversity Summit at the CBD COP 10 in Nagoya; to outline the latest relevant tools and initiatives; to reiterate the importance of ecosystem services and their value; and to present a response by local governments, subnational governments, academia and international organisations to the Plan of Action.
To be launched at Cities for Life is the landmark Hyderabad Biodiversity Index- the first of its kind in India- as well as Trees of Hyderabad: a publication by the Botanical Survey of India.
At the end of the summit, Hyderabad shall formally join Nagoya in the Global Partnership on Local and Subnational Action for Biodiversity. GHMC will also acknowledge local efforts at biodiversity conservation, and selected residential colonies will be awarded.
ICLEI, the world´s leading association of over 1200 cities and local governments dedicated to sustainable development, was one of the key partners who organised the City Biodiversity Summit at Nagoya, Japan in 2010.