Citizen Engagement for Climate Resilient City Action Plan in Siliguri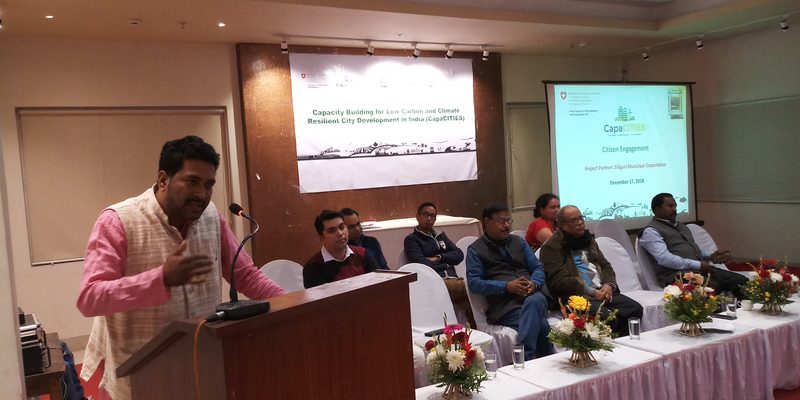 A citizen engagement event was organised by ICLEI South Asia and NIUA in Siliguri on 17th of December, 2018.
As part of the CapaCITIES project, the Climate Resilient City Action Plan for the city has been prepared. The same has been ratified and accepted by the city through a Council Resolution in September 2018.
The citizen engagement event aimed at informing the citizens about the climate action plan and discussing the same with them.
The event was attended by Mr Anand Iyer, National Institute of Urban Affairs; Mr. Asok Bhattacharya, Mayor, SMC; Mr Ram Bhajan Mahato, Deputy Mayor, SMC; Mr. Mukul Sengupta, MMIC (Conservancy, Vehicle & Environment), SMC; Dr. Sankar Ghosh, MMIC (Education, Sports and Culture); Mr Kamal Agarwal (Trade License, Parks & Gardens, Law & Guest Houses); Mr Sonam Wangdi Bhutia, Commissioner, SMC; Mr Saptarishi Nag, Secretary and Deputy Commissioner (Revenue), SMC and other officials of SMC. Representatives from prominent community based organisations like FOCIN, Pashim Banga Bigyan Mancho were also present.
Dr. Monalisa Sen, City Coach, ICLEI South Asia and Mr. Souhardhya Chakraborty, City Associate, ICLEI South Asia presented the Climate Resilient City Action Plan developed for Siliguri. Mr Asok Bhattacharya stressed on the significance of such a plan for the rapidly urbanizing city of Siliguri.
The citizen engagement saw active participation from over 200 attendees, who collectively expressed their satisfaction on the plan.