Coimbatore invites bidders for managing the on-street parking system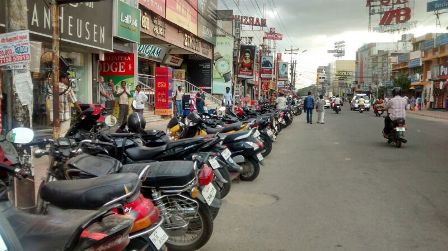 In Coimbatore, a number of major corridors which have high demand for on-street parking have been identified to better understand the characteristics of the parking scenario in the city. Potential measures to reduce the parking demand have also been suggested by the ICLEI South Asia project team to the City Corporation including an appropriate pricing strategy. Recognising the efforts made, Coimbatore City Corporation has provisionally accepted the recommended strategy report and plans designed by ICLEI South Asia and has set forward to implement on-street parking in a phased manner at identified locations, with support from the city traffic police. The Corporation has also invited bidders to manage this process and provide details of feasible technologies for collecting and managing the parking fees in the recognized areas.
ICLEI South Asia has been working closely with the City Corporation to study the existing parking conditions and recommend potential measures to manage the demand as a part of its support to the city to move towards sustainable transport, under the Shakti Sustainable energy foundation funded 'Framework for Tamil Nadu state urban transport policy' project.
ICLEI South Asia, as part of the project, has been working towards providing support to the Indian cities of Coimbatore, Madurai, Trichy, Salem and Tiruppur to help them understand the mobility issues at city level, and to provide continuous advice in the preparation of transport proposals that will gradually resolve their specific transport issues.
Read more about the previous activities under the project:
http://southasia.iclei.org/resources/news/article/coimbatore-now-ready-for-an-on-street-parking-management-system/