ICLEI South Asia Impact: Delhi Locality Declared Zero-Waste Community after Awareness Drive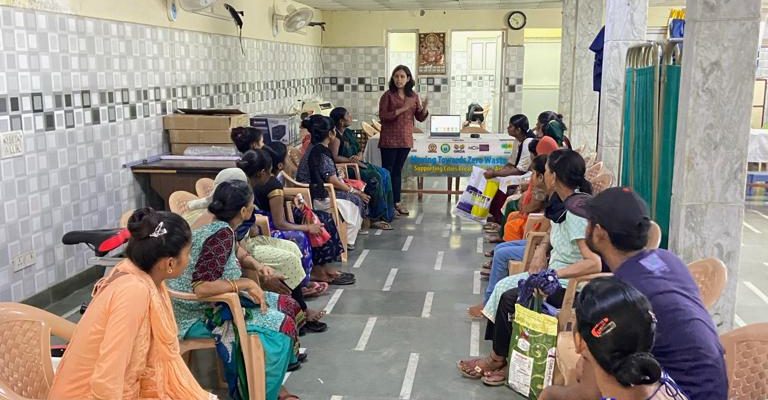 A locality in West Delhi, Arihant Nagar, has been selected as a 'zero-waste colony' by the Municipal Corporation of Delhi, following an awareness drive on waste management by ICLEI South Asia there. The locality also received an award from Hon'ble Lt Governor of Delhi Shri Vinai Kumar Saxena in this regard on the 2nd of September 2022.
ICLEI South Asia, under its Building City Leadership on Clean Air Action in Delhi-NCR project, supported by the Clean Air Fund, has been actively working on a "Moving Towards Zero Waste" initiative in two localities in West Delhi, to encourage waste segregation at source. The Delhi-National Capital Region has emerged as a major hotspot of air pollution in North India over the past few years. While the area logs poor air quality throughout the year due to a combination of several factors, the problem becomes alarming during winter, necessitating emergency measures. One of the key sources of air pollution is garbage, due to the gases and chemicals evaporating from the waste. This air pollution can originate from open dumps, where a lot of the domestic waste goes, and through the burning of trash, which can be so bad that it can release toxic substances into the air.
ICLEI South Asia's initiative took shape after a consultation meeting was held with city officials, followed by the presentation of a proposal to the Deputy Commissioner, Municipal Corporation of Delhi, West Zone. The project team has carried out surveys, documented the solid waste management value chain, door-to-door awareness drives, and held meetings with resident welfare association (RWA) committees, field staff of Municipal Corporation Delhi, and group discussions with domestic workers. The survey provided an understanding of the overall scenario and solid waste management value chain in the two colonies. The door-to-door awareness drive provided insights into the challenges being faced by the people and helped to communicate waste segregation methods through posters.
More than 40 domestic workers attended the group discussion, held in collaboration with the RWA committees and MCD, West Zone. The participants were informed about the importance and easy ways of waste segregation, the deleterious environmental impacts of waste, the types of waste, possible options for practising the 3Rs (recycle, reuse, reduce), and about revenue generation through waste. According to the domestic workers, their major concerns are the disposal of hazardous waste, issues faced in home composting, and the fixed and regular timings of waste collection.
The activities conducted by the project team helped to improve the awareness of the people about waste segregation and management and its significance. The team also mapped the existing practices of waste management in the two residential colonies.