Developing Low Emission Development Strategies in India and Bangladesh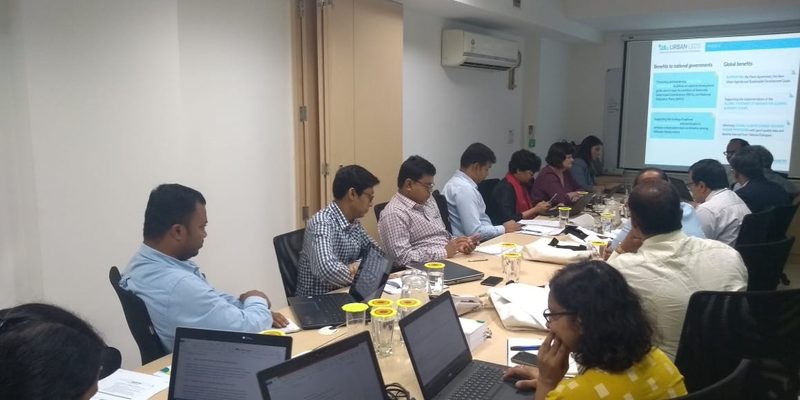 The Urban-LEDS phase II project (2017 – 2021) supported by the European Commission, and implemented in partnership with UN-HABITAT, in its second phase is actively supporting the cities of Narayanganj and Rajshahi in Bangladesh and Nagpur and Thane in India in developing climate resilient strategies and action plans, while also developing innovative pilot projects and supporting the preparation of bankable projects. Further, four satellite cities including Singra, Sirajganj, Mongla Port and Faridpur Municipality from Bangladesh will receive specific short-term technical assistance from the project.
During the Resilient Cities Asia-Pacific Forum 2019, project city representatives convened and discussed priority topics that are to be addressed by the Urban-LEDS II project. Supporting the development of a bankable project for implementing a District Cooling System in Thane, Local Biodiversity Strategy and Action Plan and an integrated water resource assessment focusing on groundwater augmentation in Nagpur, Technical guidance for LED street light management (and protection) and infrastructure upgrades, demonstration of solar PV technology and preparation of clean air action plan, installation of air quality monitoring stations in Narayanganj, and focus on green spaces, integrated waste management, water resilience and low carbon mobility are some of the actions that cities are interested in undertaking. The Urban-LEDS II project will provide technical assistance for the assessments and design of pilots and will also support the implementation of related pilot/demonstration initiatives.
Rajshahi and Narayanganj in Bangladesh are in the process of planning and implementing long-term and large scale development projects, focusing also on basic services. They view the support extended under Urban-LEDS II as an opportunity to already integrate climate resilience considerations (adaptation and mitigation) into city development, in the initial stage itself. The Climate Resilient City Action Plans are considered to be instruments that would enable identification of opportunities to mainstream climate considerations and also enable access to climate funds. Even though climate resilience is not an explicitly stated pre-condition for accessing national government funds available for urban development, the cities indicated that such finance schemes could be put to good use to develop climate resilient infrastructure, as will be identified in the climate action plans.
A Project Advisory Group (PAG), consisting of partners and national government representatives is convened for steering the project in India. A first meeting of the PAG will be held in May with an aim to explore synergies with other partners and explore ways to enhance project impact. Project cities are also preparing to participate in a study tour in June this year, to witness and learn from selected sustainable solutions deployed across Europe.