Europe Tour Inspires Climate-Smart Vision in Urban-LEDS II Cities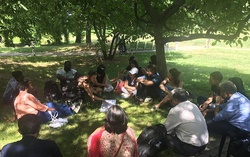 A study tour of Europe was organised under the project "Urban-LEDS II – Accelerating climate action through the promotion of Urban Low Emission Development Strategies" from 17th to 24th June 2019.
Participants from 18 countries visited three leading European cities that are part of the Urban LEDS network. They got an opportunity to explore first-hand how these cities were taking ambitious climate action through a wide range of solutions in several sectors, including wastewater treatment, urban regeneration and public spaces, energy efficiency in buildings and nature-based solutions, besides district energy and sustainable mobility measures. The cities also learnt from one another, and jointly explored how to plan and accelerate local low-emission development.
The Urban-LEDS II project supports integrated climate action in emerging economies and the least developed countries, and facilitates South-South-North exchanges among more than 60 cities from Bangladesh, Brazil, Colombia and India, besides Indonesia, Lao PDR, Rwanda and South Africa, and across Europe. The project is funded by the European Union, and is being implemented by UN-HABITAT and ICLEI – Local Governments for Sustainability.
In South Asia, the Urban-LEDS II project is supporting the cities of Narayanganj and Rajshahi in Bangladesh and Nagpur and Thane in India to formulate climate-resilient strategies and action plans, and to develop bankable projects and pilots. Assistance is also being provided to four satellite cities of Singra, Sirajganj, Mongla and Faridpur in Bangladesh.
The European study tour kicked off in Helsinki. Aiming to become carbon neutral by 2035, Helsinki's climate action plan features 143 actions, including sustainable mobility solutions, energy efficiency in buildings, clean energy production and a suite of cutting-edge smart technology solutions. The participants were enthused by Helsinki's Energy and Climate Atlas. This atlas is used for sustainable urban planning, which includes virtual models created through 3D technology to gather building-specific information, as well as data on consumption of water, district heating, electricity and energy.
Helsinki's Kalasatama harbour is being redeveloped into a smart residential area and serves as a test bed for innovative technology-driven solutions concerning waste management, mobility, energy management and solar power, besides community engagement.
Italy's Bologna, a former European Mobility capital, was the second stop on the tour. Well known across Europe for the attention it gives to citizens' participation, Bologna shared its experience in involving citizens in sustainability projects and in applying out-of-the-box methods to develop and preserve its public and historic spaces.
FICO, the world's largest agri-food park, spanning 10 hectares, has shown how sustainable urban agriculture and biodiversity can be promoted to meet growing food demand, while tackling climate change.
The tour concluded in Warsaw to explore the city's low emission and resilient solutions on energy efficiency, renewable energy and sustainable transport, and for enhancing green spaces.
The participants visited the inspiring riverside Vistula promenade and the roof garden of the University of Warsaw Library to learn how the city had restored and improved green and 'accessible to all' public spaces. The last stop in the city was Warsaw's large and modern 'Czajka' central wastewater treatment plant, which handles 100% of the city's wastewater and produces heat from biogas and sludge, while generating electricity.
"Through the Urban-LEDS II Study Tour, I now have a vision for a sustainable, low-emission and resilient development for my city and I will go back and work to help realize it," Mohammed Moinul Islam, Urban Planner, Narayanganj City Corporation, said.
The city of Nagpur has been focusing on creation of smart urban infrastructure at part with international standards and improving the efficiency of service delivery. Dr. Ramnath Sonawane, CEO, Nagpur Smart and Sustainable City Development Corporation Limited, said, "Nagpur is one of the hottest cities in India. Heat waves that we face during the summers pose a risk to our citizens and also drive up energy use in our buildings. The solutions which we have seen on virtual 3D modeling for buildings in Helsinki, the creation of unique and green public spaces, urban agriculture, and integrated and sustainable mobility are inspiring and we are keen to replicate these in Nagpur as part of our low emission development strategy."
The study tour came at an opportune time as the project cities were about to prepare their low-emission and climate-resilient strategies and action plans, wherein the practices shared from the study tour can be integrated. The Urban-LEDS II technical assessments and pilot projects that are being developed provide opportunities to the project cities to test innovative solutions in their local conditions.