Experts Discuss Solutions for Climate Adaptive Water Management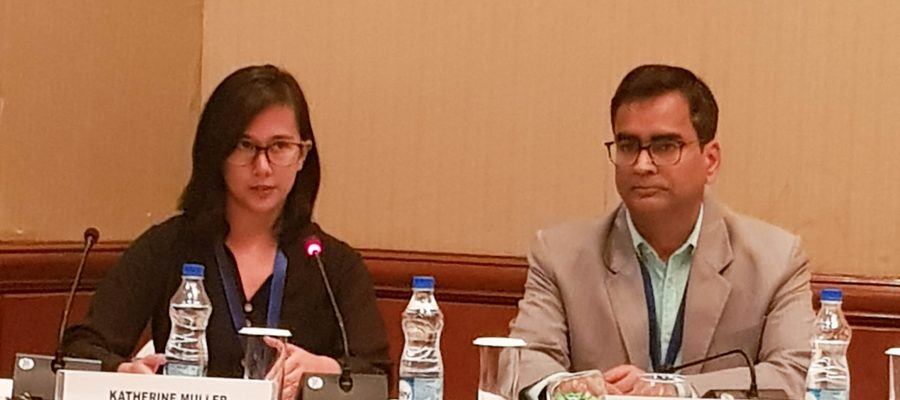 A session on Climate Adaptive Water Management was organised by ICLEI with support from the International Development Research Centre on the second day of the 4th Resilient Cities Asia-Pacific Congress 2019.
This session presented advanced understanding on the impacts of climate and human development on sustainability of water resources.
It focused on climate induced challenges to water resource management and collaborative approaches for integrated water management, socio-economic, demand-led strategies for managing water withdrawals for various uses, decision support tools and management framework for integrated water management, role of climate modeling in water resource management, models and framework for innovative financial opportunities supporting circular economy.
Bedoshruti Sadhukhan, Senior Programme Coordinator, ICLEI South Asia introduced the IAdapt framework as an integrated rural urban water management for climate-based adaptation in Indian cities.
Ms. Sadhukhan explained how as part of IAdapt framework, a RURBAN platform has been formulated as a cross-sectoral network and participatory decision-making platform including both rural and urban stakeholders on water management.
Talking about way forward, she said, "Legal and regulatory policies to further facilitate urban and rural partnership is required."
Ansu Alexander, Consultant, Athena Infonomics Pvt. Ltd, India, further clarified on RURBAN platform and its four components supporting decision makers which are DST, capacity building, catchment management plan and compendium of financing sources.
Talking further about solutions, Crispino Lobo, Co-Founder, Watershed Organization Trust, India, raised a pertinent point on involving citizens. He said, "We need to move to water use efficiency. Need to bring in advanced level of applied science and involve local communities so that communities understand how to manage and regulate water use."
Katherine Muller, San Fernando City, La Union, Philippines presented some of the work being done by their city on water resource management, including rain water harvesting and improvement of sanitation.
Nand Kishore Agrawal from ICIMOD, Nepal pointed out the challenges being faced by almost 13 billion people in Asian countries, because of the climate change impacts on the water resources that are emerging from the Hindu Kush Himalayan region.
The session was moderated by Shiraz Wajih, Gorakhpur Environmental Action Group, India and the panel included: Katherine Muller, San Fernando City, La Union, Philippines; Nand Kishore Agrawal, ICIMOD; Crispino Lobo, Watershed Organization Trust; Veena Khanduri, India Water Partnership; Trimbak Dhengale Patil, Deputy Commissioner, Solapur Municipal Corporation, India. The presenters for the session were: Bedoshruti Sadhukhan, ICLEI South Asia, Ansu Alexander, Athena Infonomics Pvt.Ltd; S. Mohan, IIT Madras; Avinandan Taron, International Water Management Institute.
(Written by Subuhi Parvez from ICLEI South Asia Secretariat)