Global NDC Conference 2017 held in Berlin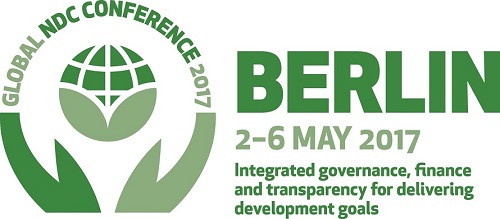 The Global NDC Conference 2017 was held in Berlin, Germany from the 2nd-6th of May 2017. The theme for 2017 was on integrated governance, finance and transparency for delivering climate goals. Jointly organized by the LEDS GP, the GIZ Support Project for the Implementation of the Paris Agreement (SPA), and the UNDP Low Emission Capacity Building (LECB) Programme, in collaboration with the NDC Partnership, the Conference advanced the implementation of NDCs and low emission development strategies globally and nationally. This was done through-
sharing emerging practices, especially in the areas of: integrated governance to achieve development and climate mitigation and adaptation goals; financing and transparency;
identifying gaps and opportunities for support;
exploring concrete opportunities for countries to progress their NDCs and LEDS through collaboration and linkages to sustainable development and the 2030 Agenda;
engaging with private sector climate networks to explore needed actions.
80 countries participated at the three day event with representation from governments, selected multilateral and bilateral institutions, think tanks, and private sector bodies.
The main messages that emerged under the three broad themes were:
For climate actions to result in tangible development benefits, countries need to reconfigure their governance systems to foster an inclusive, integrated approach to low carbon development.
Attracting investment in support of NDC ambitions is a multidimensional challenge in which the public sector plays a key role through policy, regulatory and financial incentives and engineering which enable public and private investment in low-carbon infrastructure and climate and resilient development.
The enhanced transparency framework is backbone of the Paris Agreement. It builds trust, enables tracking of NDC implementation and informs the global stock take on reaching the long term goal.
Detailed information on the conference can be found here (link).