Ground water level in Guntur selected as focus of SUS training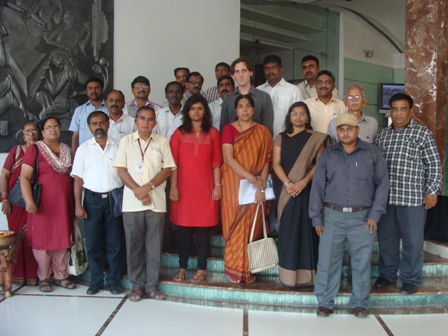 The first Engagement Workshop for Supporting Urban Sustainability (SUS) took place in the city of Guntur on 15-16 April 2013, and was organized by ICLEI South Asia, in cooperation with the Guntur Municipal Corporation, Centre for Environmental Education (CEE) and the Swedish International Centre of Education for Sustainable Development at Gotland University (SWEDESD).
A group of relevant local stakeholders were invited to participate in the workshop and brain-storm on Guntur's main environmental issues, with a special focus on the city's ecosystems services. The participants included professors from eminent universities, representatives of the builder's welfare association, of NGOs, of the ground water board and pollution control boards, and officials from the municipal corporation. Through moderated sessions, the workshop introduced the concepts of ecosystem services, reflexive governance and collaborative learning and stimulated participants to identify the main issue that they will explore, for one year in their city, through the SUS training programme.
The main question the stakeholders decided to focus on for the city of Guntur is "How can we stop ground water level from falling in Guntur?". The participants also developed a brief action plan on how they will tackle this issue during this year.