High-profile National Workshop Puts Focus on Best Practices in Climate-resilient Development

The Department of Environment, Climate Change & Forests and the Department of Municipal Administration and Water Supply of Tamil Nadu state jointly hosted the 1st National Level Best Practice Workshop organised by the CapaCITIES project with support from the Swiss Agency for Development & Cooperation and in partnership with C40 Cities as well as World Resources Institute on the 29th and 30th of April 2022 in Chennai, Tamil Nadu. ICLEI South Asia is one of the implementing partners in the project along with the South Pole and concept with the National Institute of Urban Affairs as the knowledge partner.
This workshop has provided peer-to-peer learning opportunities to city and state officials, where around 16 Indian cities participated and shared their experiences related to various urban issues, climate change challenges, and best practices. National and international experts discussed climate-resilient action planning and implementation, starting from climate-resilient city action planning methodology and framework; mainstreaming climate resilience in regular urban planning;  prioritising various climate actions including electric mobility planning, local biodiversity actions, green building design guidelines, decarbonising institutional consumption for cities, etc.; implementation of various climate initiatives from pilot project implementation to city-wide scale-up; climate finance for cities and designing bankable climate-resilient projects; and best practices by cities and states.
The first day of the workshop comprised of three technical sessions namely Climate Resilient City Action Planning and Implementation, Climate Resilience in Urban Planning, and Priority Climate Actions in Cities – wherein experts from various organisations and officials from CapaCITIES project cities spoke on low carbon and climate resilient city development and mainstreaming climate actions in regular planning process in India.
The inaugural session on Day 1, was presided by dignitaries from the Government of Tamil Nadu and partner organisations. The Chief Guest, the Chief Secretary of Tamil Nadu, Dr. V. Irai Anbu launched the Tamil Nadu Green Climate Company's brochure and addressed the audience. His compelling speech on Climate Resilience set the tone of the workshop. In his speech, Dr. V. Irai Anbu stressed on the importance of learning from each other and from experiences, while stating that since time immemorial, it has been proved that women are more inclined toward preserving our environment. He also spoke about the need for every city to become Climate Resilient while calling on climate actions to be more focused on the downtrodden who are more vulnerable to climate change. The Chief Secretary spoke about the rapid speed at which urbanization is taking over the State, hence the immediate need to accelerate climate actions. Quoting eminent authors, he also stressed on the significance of agriculture and the need to cultivate vegetation that is indigenous to the local regions.
The Additional Chief Secretary, Department of Environment, Climate Change & Forest, Tamil Nadu, Ms. Supriya Sahu; Head of Cooperation, Swiss Agency for Development & Cooperation, Dr. Jonathan Demenge; Director, National Institute of Urban Affairs, Mr. Hitesh Vaidya and Director Sustainable Infrastructure/Public Sector, South Pole, Mr. Hans Peter Egler also graced the event with their presence and shared their inspiring thoughts on climate-resilient development and environmental conservation.
While thanking the Chief Secretary of Tamil Nadu for his immense support in setting up the Tamil Nadu Green Climate Company, Ms. Supriya Sahu stated that it is the vision of the Chief Minister of Tamil Nadu for the state to become the leader in Climate Change actions in the country. She also stressed on the importance of creating continuous awareness among the public for all climate actions to reach its goal of a climate-positive state.
In his speech, Dr. Jonathan Demenge stated that the Swiss experts have been working relentlessly on ways & means to adapt Climate Actions that have been implemented in Switzerland and make it work in Indian cities. He also mentioned how the success of the CapaCITIES Coimbatore story has inspired many in Switzerland.
Mr. Hans Peter Egler expressed that the South Pole as an organisation is ready with any kind of sustainable infrastructure support that the country and its cities may need to strengthen the climate-resilient actions that partner organisations undertake.
Mr. Hitesh Vaidya expressed his thoughts on Climate language and why it has to change keeping in mind our diverse urban and rural areas and that the western world's climate theory and actions will not adhere to our country.
Explaining the Comprehensive ClimateResilientCities methodology developed under CapaCITIES phase I and Simplified ClimateResilientCities Process developed under the CapaCITIES phase II project, Mr. Reto, CEO, econcept, discussed how the city can identify and prioritise climate actions for implementation. Focusing on Simplified ClimateResilientCities Process, Mr. Reto explained the Basket of Solutions (BoS), which draws inspiration from the European Energy Award and described all 9 thematic areas, including 38 climate actions of BoS assessment with an example of test assessment of one of the CapaCITIES project cities – Tirunelveli, and how BoS may support city to evaluate baseline, setting up the targets and monitoring.
Experience during preparation of Climate Resilient City Action Plans of CapaCITIES Phase I cities – Coimbatore, Rajkot, Siliguri and Udaipur were explained at length by the project city associates. Also, best practises from CapaCITIES Phase I cities, experiences of pilot project implementation and challenges faced by the city during implementation and replication were shared by project city associates.
Talking about the ongoing Climate Action Planning work in Chennai, Mr. Benjamin John, City Advisor, C40 Cities India, explained how GHG emission inventories of various cities reflects the characteristics of the city and support to identify and prioritise various climate mitigation actions.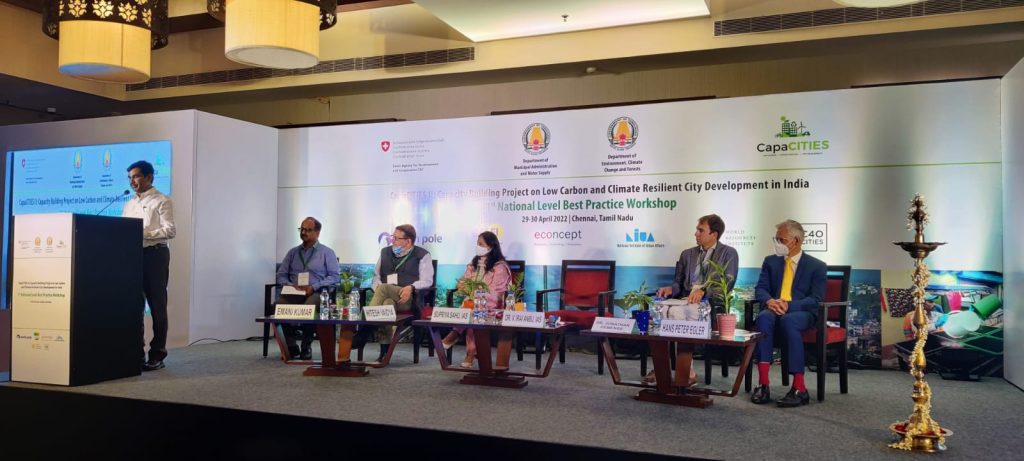 Talking about climate change adaptation planning in districts of Tamil Nadu, Dr. Nambi Appaduarai, Director, Climate Resilience Practice – WRI highlighted the importance of accessible climate finance, capacity building of district officials to enable them to apply and access finance and mainstreaming of adaptation aspects in development planning.
Dr. Umamaheshwaran Rajasekar, Chair Urban Resilience, NIUA presented the performances of the Indian cities in terms of climate actions through the Data Observatory launched by NIUA recently. He highlighted the performances of some of the CapaCITIES project cities: Siliguri, Udaipur, & Tiruchirappalli in the Climate Smart Cities Assessment Framework in the last assessment cycle CSCAF2.0.
Mr. Subhashish Dey, Director, Climate Policy Program, Shakti Sustainable Energy Foundation, discussed on various climate initiatives focusing on India's road map to Net Zero and strategic priorities for net-zero pathways, climate resilience, and air quality. Mr. Dey also discussed some of the policies leveraging India's net-zero target.
During City's Voice panel discussion as a part of Technical Session II, city officials from CapaCITIES project cities shared their experiences and challenges faced during implementation of various climate actions. Municipal Commissioner, Siliguri explained how difficult is to manage the floating population in the city as it directly impacts on various urban services. Various success stories were also discussed by city officials, some of which includes, Ahmedabad's low carbon public transport system focusing on electric mobility, impacts of the 'Sunya' project in Coimbatore and Siliguri under CapaCITIES and replication by the city, Miyawaki forest by Tirunelveli, 100% conversion of existing streetlights with LED lights in Udaipur, implementation of 145 kWp solar PV system on WTP and proposed 4 MW captive solar PV for municipal facilities by Rajkot.
While addressing Climate Resilience in Urban Planning, Prof. Chetan Vaidya, Former Director, NIUA and School of Planning and Architecture, Delhi suggested integrating resilience into city master plans and town planning. Mr. Vaidya also explained how the simplification of climate actions linking with innovative finance mechanisms, communication with various stakeholders, and empowerment of ULBs can support achieving climate resilience goals. It was also discussed that the CapaCITIES project, along with NIUA, will come up with a city resilience guideline for integration with the city master plan.
During Technical Session III, Mr. Abhijit Lokre, Founder and Partner, The Urban Lab explained the planning for electric mobility in Indian cities, along with various challenges and opportunities, including the FAME II scheme, EV policies of various states, supply, and demand-side challenges. Dr. Monalisa Sen, Programme Coordinator, ICLEI South Asia explained how important is to integrate biodiversity planning with existing urban planning and how the preparation of 'The local Biodiversity Strategy Action Plan (LBSAP)' can bridge this gap by considering ecosystem services as an integral part of the various urban systems. Ms. Samhita Madanagobalane, Director, Ela Green Buildings & Infrastructure Consultants, explained through a case study the importance of incorporating easy to implement green building principles in design considerations of new buildings to improve the inherent thermal comfort of buildings and their energy management Mr. Vaibhav Jain from the South Pole explained on decarbonising the institutional energy consumption for Indian cities.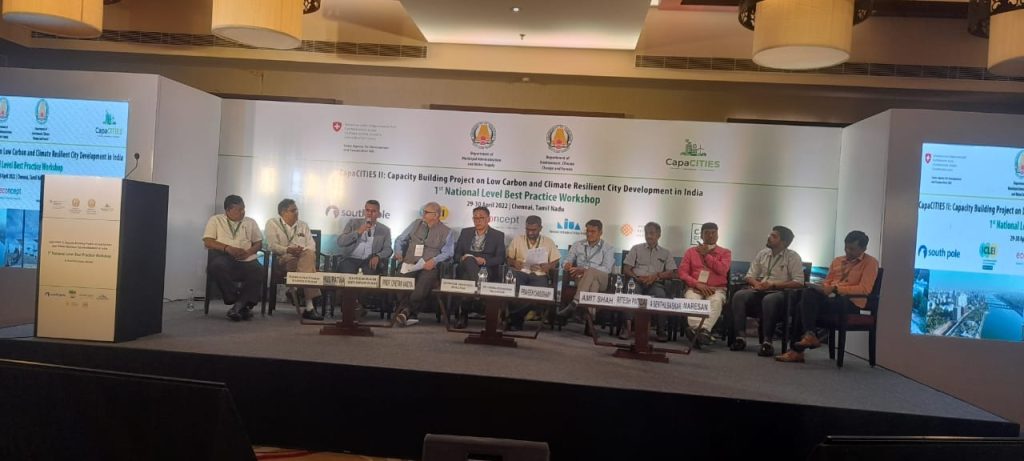 Day two comprised of a technical session on Climate Finance for Cities and Designing Bankable Projects and a discussion with the city representatives on climate action priorities and good practices.
During the technical session, Mr. Hans Peter Egler, Director of Sustainable Infrastructure, South Pole stressed the importance of planning and implementation of sustainable design.
Talking about the climate-resilient infrastructure, Mr. Mehul Patwari, Director, Sustainable Infrastructure Finance, South Pole said, "If states don't invest enough in mitigation projects in the initial stages, they will be forced to invest exorbitant amounts in adaptation projects in the further stages."
Vidhya Venugopal, a Researcher on heat stress, spoke on climate change and its impact on health. "Unorganised sectors where workers are neither insured by their contractors nor employees, bear the brunt of working in extreme climate conditions," she said.
"Slum-dwellers and migrant workers, the entire community of them work under extreme conditions throughout the day and yet have no respite at the end of the day with no healthy environment to go back to, nor do they have insulation or constant electricity," she added.
At the 1st National Level Best Practice Workshop, Mr. Emani Kumar, Executive Director, ICLEI South Asia, announced that UNEP/Rocky Mountain Institute will be collaborating with ICLEI South Asia to implement the Urban Cooling Program to address the extreme urban heating crisis. This will be planned as part of a wider program with the involvement of both the State and Central Governments. The CapaCITIES project will also provide their support to this initiative.
Dr. Jonathan Demenge, Head of Cooperation, SDC gave his final remarks where he said, "happy to see the progress that the cities in India have made in terms of combating climate change."
Participants for the workshop included officials from the Department of Environment, Climate Change & Forest and the Department of Municipal Administration & Water Supply of the Government of Tamil Nadu, officials from smart cities, and project cities of Tamil Nadu, Gujarat, Rajasthan, and West Bengal.  The sectoral experts from the domain of climate change and senior professionals from research and educational institutions of repute were also present.
The CapaCITIES project was initiated in 2016 to drive mainstream climate action in select Indian cities and states by enhancing their ability to develop integrated climate-resilient planning and infrastructure, and design innovative finance mechanisms. The project is in its second phase and is being implemented in Ahmedabad, Coimbatore, Rajkot, Siliguri, Tiruchirappalli, Tirunelveli, Udaipur, and Vadodara.