Highlighting Public Participation as a Crucial Tool in Forwarding Local Climate Action: A Discussion on Citizen Engagement by City Representatives, Experts, and Stakeholders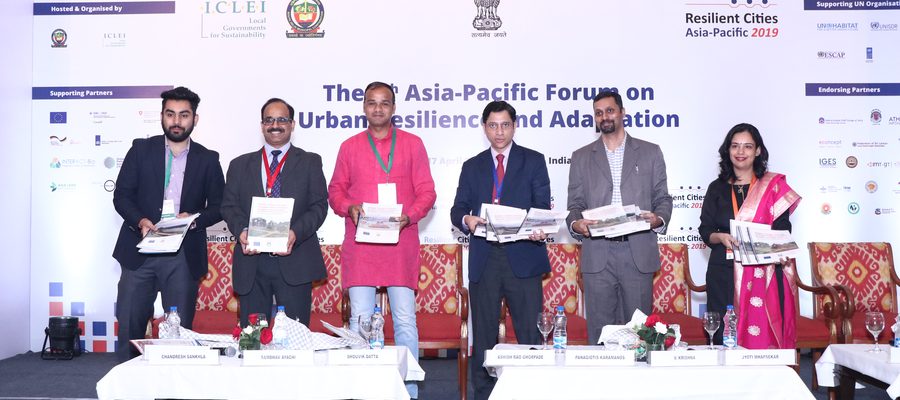 Every failure is an opportunity to learn how to do better is a sentiment that underscored the discussion in Plenary 3 of RCAP 2019. The session focused on sharing stories on good urban governance mechanisms to improve climate resilience. In this session, the critical role of public participation was discussed with reference to a range of Indian projects under the PROMISE project, which examined community engagement across four projects in public urban spaces, residential waste, sewerage management, and urban mobility.
Shouvik Datta, Senior Programme Manager, Delegation of the European Union to India talked about European Union's (EU) long history of support and cooperation with local governments in forwarding sustainable and inclusive development.
The session, which was facilitated by ICLEI Deputy Secretary-General and Executive Director of South Asia Emani Kumar, was marked with the inaugural launch of the PROMISE Website and Tool, a framework for the implementation of municipal-level projects supporting inclusive public participation. Ashish Rao Ghorpade, Deputy Director of ICLEI South Asia invited everyone to access the website and learn more about the PROMISE initiative.
Following the introduction of the PROMISE project, the audience heard from a panel of municipal government representatives and technical experts involved in the project. The municipalities told encouraging stories of their experience with the participatory approach, while the experts gave global perspectives from their experience beyond India. The benefits of the PROMISE project will not cease with the end of the project itself but will be shared, scaled and replicated on the back of the launch of the PROMISE tool and website.
In the panel discussion, moderated by Panagiotis Karamanos, Team Leader, International Urban Cooperation, India, two main challenges to public participation came to the fore. The first was how to facilitate inclusive and representative public participation so that a diversity of voices and interests are heard. Ms. Kalapana Vishwanath, Co-Founder and CEO of Safetipin, emphasized that special effort needs to be made to reach vulnerable and under-represented groups, including the urban poor, women, and children. Ms. Vishwanath also emphasized that public participation could leverage technology, especially in larger cities, to engage efficiently a diversity of communities. For delegates, the key takeaway from the session was that even though public participation in municipal projects will take effort and throw up challenges, there are indisputable benefits for long-term success.
The session also featured insights from the following panelists: V. Krishna, Additional Commissioner, GHMC, Hyderabad; Chandresh Sankhla, Ward Councilor of Ajmer Municipal Corporation; Sambhav Ayachi, Assistant Commissioner of Jabalpur Municipal Corporation; Jyoti Mhapsekar, President of Stree Mukti Sanghtana; Kalapana Vishwanath, Co-Founder and CEO of Safetipin, India; Faiyaz Khudsar, Scientist-in-Charge of Yamuna Biodiversity Park; and Kazunobu Onogawa, CCET, IGES-UNEP, Japan.
(This article was first published on ICLEI Southeast Asia website)