ICLEI and WBCSD announce collaborative partnership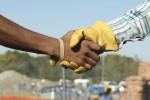 Advanced technology and innovation are urgently needed to ensure sustainable urban development. Sustainable and efficient solutions for urban transport and mobility can significantly reduce greenhouse gas emissions and noise, improve air quality, and help to create high-quality public spaces. Technological solutions can contribute to enhancing and sustaining healthy ecosystems and ecosystem services, for example by reducing water consumption.
Business is a key provider of solutions to these complex urban sustainability challenges. The main infrastructure, technology, services and financing solutions that will support the sustainable visions and strategies of cities are predominantly developed, designed and implemented by the private sector. It is crucial that cites and business develop new models for strategic engagement to realise the full capability of business to deliver innovative solutions. Unfortunately, institutional and perception barriers can limit city-business engagement where it is most critical – early in the planning process.
ICLEI – the world's leading association of cities and local governments dedicated to sustainable development – and the WBCSD – the leading global business organization promoting action for sustainability – have been working together to overcome these barriers and demonstrate in practice the real value of early strategic collaboration. Key examples of this collaboration include the WBCSD's Urban Infrastructure Initiative (UII), the ICLEI Global Town Hall in Hannover (Germany) and a global survey of city leaders in early 2014, exploring barriers and opportunities for scaling up city collaboration with private sector solutions providers.
For more information, see ICLEI and WBCSD's Collaboration Statement.