ICLEI South Asia Organises Multiple Sessions, Launches Key Publications

ICLEI South Asia organised and participated in various sessions at the ICLEI World Congress, which was held from 11-13 May 2022 in Malmö city, Sweden. The three-day conference was attended by local and regional government representatives from over 150 cities, towns and regions. It provided an array of ideas on bringing sustainability and inclusivity to cities. Sessions were held on diverse issues, in which leaders threw light on their cities' development models and the way forward.
Ms. Atishi Marlena, Member of Legislative Assembly, National Capital Territory of Delhi, India who is the Vice President of ICLEI and Resilient Portfolio holder in the Global Executive Committee (GexCom) of ICLEI actively participated in discussions as a panelist, spoke about good practices in the national capital. "Delhi has shown that equity and economic growth can happen together. If Delhi, a city of 30 million people, can strive towards equity, inclusion and sustainability, then any city can," she said. As part of her GexCom profile, Ms. Marlena reviewed the Resilient Development portfolio projects and recommended revving up integrated climate action and the setting up of a centralised knowledge platform.
Dr. Kunal Khemnar, Additional Municipal Commissioner, Pune, spoke at length about the work being done under the Urban Shift project in his city. "Keeping urban resilience of the city in mind, we wish to promote public transport and low-carbon fuel in the transport sector," he said.
In a session on last-mile logistics, the EcoLogistics project team from ICLEI South Asia launched two publications, namely 'Low Carbon Action Plan for Urban Freight' (LCAP-UF), and 'Mapping Supply Chains for Kochi, Panaji, Shimla'. During the session, Angelo Fernandes, Commissioner, Panaji Municipal Corporation stressed that the LCAP-UF would guide urban local bodies to develop sustainable urban freight management for making cities more liveable. "We are working towards reducing carbon emissions. We are also trying to convert Panaji into a solar city," he added.
In a session titled 'Ecologistics Masterclass', Mr. Ashish Kumar Kohli, Hon'ble Commissioner, Shimla Municipal Corporation, Himachal Pradesh, presented strategies for freight management, specifically the low carbon action plan for Shimla. "Clean, safe, and efficient urban freight is essential for everyone in the city," he said.
ICLEI South Asia also organised a virtual session on 'Social Inclusion in Climate Resilience Planning' under the Climate Development Knowledge Network (CDKN) programme, which is supported by Canada's International Development Research Centre and the Royal Netherlands Ministry of Foreign Affairs. During the session, the participants were introduced to the 'Climate and Society' Game, which offered an interesting approach for sensitising participants by putting them in different 'roles' and 'situations', thereby improving their understanding of various intersecting community needs and the urgent need to promote gender and socially inclusive climate actions.
In this session, from the South Asian region, Dr. Nurun Nahar, Joint Chief & Project Director, National Resilience Programme, Programming Division, Bangladesh Planning Commission, Ministry of Planning, Government of Bangladesh, spoke about social inclusion in the national policies and stressed the importance of data on social issues for improved planning and climate action. "Having data will help us understand the gaps. We need more data related to social issues, which will help us get a better perspective," she said.
In another virtual session on 'Circularity to Overcome Plastic Waste Management Challenges', co-organised by ICLEI South Asia and ICLEI , Mr. Anand Voleti, Team Head, Greater Warangal Smart City Corporation, Telangana, spoke about the challenges and initiatives for managing plastic waste in his city. He said that the plastic consumption rate was growing by 20% every year, and that its recycling was a major challenge.  "As part of the awareness programmes, Warangal has declared two colonies as plastic-free, where the people have taken an oath not to use single-use plastics," he added. The work in Warangal was discussed as part of the ongoing Alliance + ICLEI Developing Plastic Waste-Free Cities project, supported by the Alliance to End Plastic Waste.
In a session on 'Nature-based Solutions: Green Blue Strategies and Tools', Dr. Rajan Chedambath, Director, Centre for Heritage, Environment and Development, Kochi city, Kerala, spoke about ecosystem restoration in his city as part of the INTERACT-Bio project, supported through the International Climate Initiative of the Federal Ministry for the Environment, Nature Conservation, Building and Nuclear Safety, Germany. "We followed a participatory approach for developing a Local Biodiversity Strategic Action Plan. Kochi is the first city that involved thousands of people in the process," he said.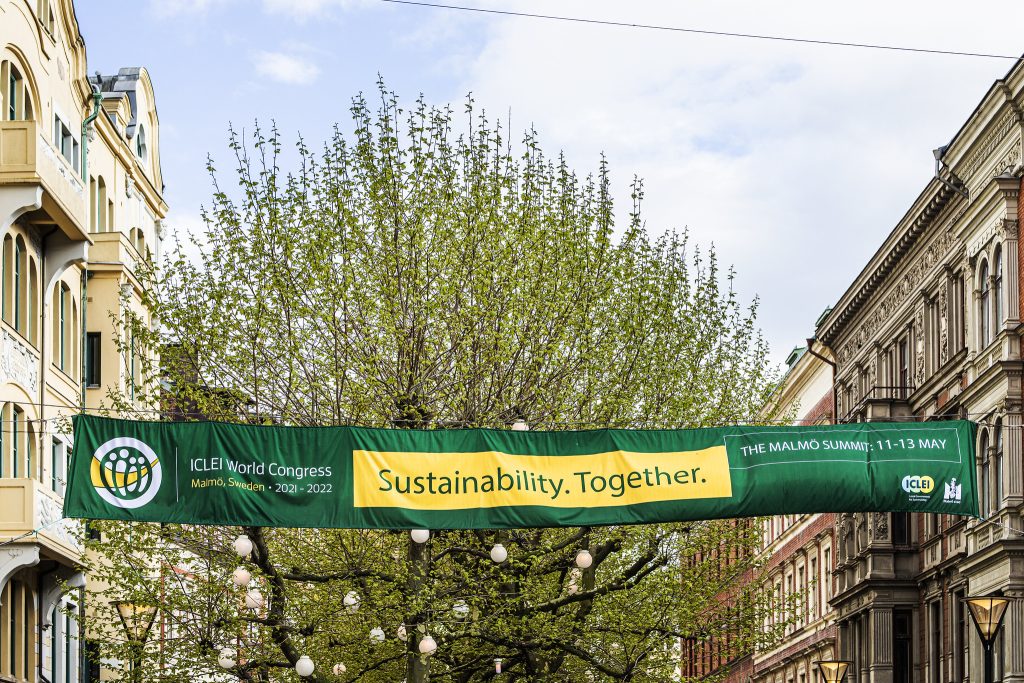 Dr. Kunal Khemnar Additional Municipal Commissioner, Pune, talked about his city's initiatives and commitment to become carbon neutral, during the closing ceremony. "Pune aims to become a global city, a pioneer in environmental initiatives in India," he said in his concluding remarks.
The major outcome of the three-day Congress is 'The Malmö Commitment', which aims to prioritise people and bring social equity at the core of local sustainable development; foster safe, vibrant cities, towns, and communities for all to live, work, and thrive; foster environmentally-sound human wellbeing by ensuring that cities and towns are for all, promoting safe and healthy urban spaces, and ensuring just transitions to a sustainable local economy; and to collaborate with community stakeholders to address key sustainability challenges.
The participants at the Congress shared their experiences stories and good practices in urban sustainability, and shaped solutions and forged news partnerships that will drive the urban sustainability movement forward.