ICLEI South Asia joins hands with WWF for public green awareness event in Panaji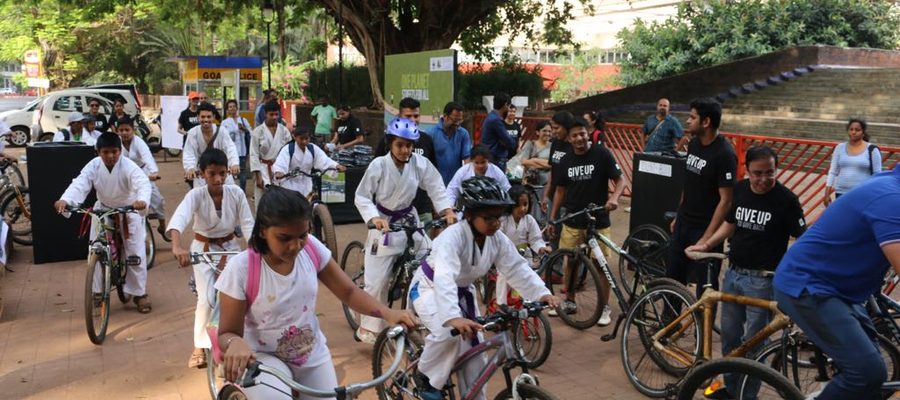 ICLEI South Asia and WWF-India , in collaboration with the Corporation of The City of Panaji, organised the 'One Planet Streets for All' event in Panaji to reinforce the idea that everyone has a right to use roads, irrespective of their mode of transport- motorised or non-motorised. This event was conducted on the 6th of May, 2018 and was supported by WWF – India.
The event focused on raising awareness about smarter and greener choices of commute. It inspired people to shift from unsustainable modes of commuting to reduce their carbon footprint as well as address safety concerns for pedestrians and cyclists.
Several events were organised during the three-hour event: Ashtanga Yoga session by Geetanjali, a heritage walk along the Mandovi – by Charles Correa Foundation and Noah Fernandes, a karate demonstration by students of Sensei Joseph Rodrigues, a self-defense workshop for ladies as well as, Books Snakes & Ladder Game by Bookworm, Sustainable Mobility Game – Move n Seek by Incollab, among others.
A Cyclothon was also organised which was flagged off by by Shri Vithal Dayanand Chopdekar, Mayor of the Corporation of the City of Panaji.
"This is a great initiative and the Corporation of the City of Panaji is happy to be a part of it. We understand the need for walking and cycling spaces in the city as part of the Smart City initiative. We will endeavor to encourage this initiative and request more citizens, especially children to contribute to this cause and make our city pollution-free," he said at the event.
The event witnessed good participation, and the citizens were eager to adopt eco-friendly practices in their daily lives.