ICLEI South Asia Launches Plastic Waste Management Pilot in GHMC Area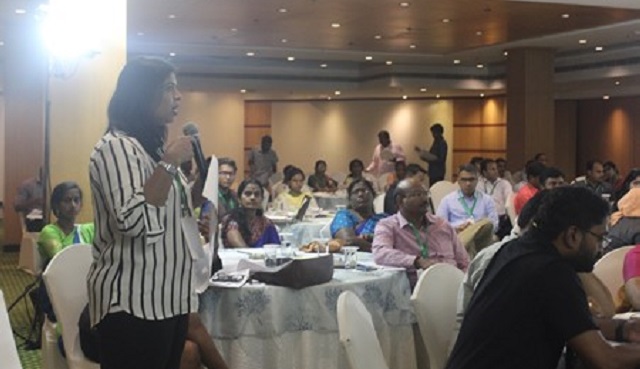 ICLEI South Asia, in partnership with Greater Hyderabad Municipal Corporation (GHMC) and supported by the IGES-CCET (IGES Centre Collaborating with United Nations Environmental Programme on Environmental Technologies), is developing a 'Plastic waste management strategy and action plan for GHMC'.
As part of this initiative, the project is interacting with shopkeepers and residents in the Birla Mandir market area (Navbhat Pahad – Adarsh Nagar) to showcase local action for avoiding the use of single-use plastics and finding alternatives.
On the occasion of Gandhi Jayanti (the 150th birth anniversary of Mahatma Gandhi) and the fifth anniversary of the Swachh Bharat Mission, the pilot project was inaugurated in a "green event" on the 2nd of October 2019. It is envisaged that the scope of the pilot project will be multi-dimensional, addressing different elements of the entire value-chain of plastic waste from generation to processing. The pilot activities that were initiated included:
• Handholding support and training to women from self-help groups in the area to manufacture cloth bags to replace single-use plastic bags in vegetable markets.
• Engagement with shopkeepers to promote the use of certified starch-based biodegradable bags as an alternative to single-use plastic.
• Extensive Information, Education and Communication (IEC) activities, including multiple mass awareness activities that focus on avoiding the use of single-use plastics, such as community wall painting initiatives, Dappu Nrityam (traditional street dance) and door-to-door awareness campaigns.
• Training for Sanitary Auto Tipper (SAT) operators for segregated primary waste collection and transport to facilitate better recycling of plastic waste.
The pilot activities were inaugurated by Md. Musharraf Ali Faruqui, IAS, Zonal Commissioner, Central Zone, GHMC. Among those who attended the event were Dr. Shiva Kumar, AMOH, Goshamahal Circle, GHMC; Radha Rani, DPO-UGC, Central Zone, GHMC; Koteshwara Rao, Superintending Engineer, GHMC; Mr. Bharat, SBM Coordinator, GHMC; and Mamtha Santosh Gupta, Corporator, Gunfoundry division, GHMC.
There was zero use of single-use plastic at the inaugural event. Instead, cloth banners, clay cups for serving tea and eco-friendly gifts were used, while plastic decorations of any kind were avoided, thus setting an example of how events can be organised in a sustainable manner.
The inauguration was followed by Dappu Nrityam in the streets of this area. College students, who had won the painting competition that focused on the theme of "Refuse single-use plastics and adopt sustainable lifestyles", painted one of the publicly accessible walls along the street. The street art will serve to remind people in the locality of their goal to reduce the use of single-use plastics and ensure segregation of waste for effective processing of plastic waste.
In the coming months, ICLEI South Asia will continue to work with women self-help groups to establish pilot facilities that would improve the availability of alternatives to single-use plastics. A plastic waste management strategy for GHMC is also being prepared and discussions with GHMC officials and the community are ongoing.