ICLEI South Asia Member Cities Shine at Global Climate Action Summit 2018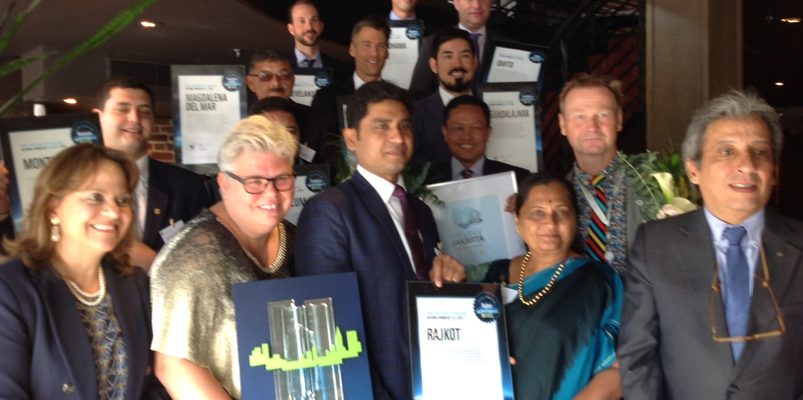 Rajkot city has been declared as the National Winner for WWF's global One Planet City Challenge (OPCC), which is in partnership with ICLEI South Asia, for the second time in a row. The city was felicitated at the OPCC global award ceremony on the 12th of September during the Global Climate Action Summit (GCAS) in San Francisco, United States.
Along with Rajkot, 10 other cities from India participated in the 2017-2018 round of this global challenge, in which Panaji and Pune were also selected as finalists. These three cities were amongst the 40 finalists from the 132 cities across 23 countries that participated in the challenge this year. While Rajkot emerged as the national winner, Pune also received a special mention from the jury for its sustainable mobility plan as well as for its energy efficiency and waste management initiatives.
"It gives us immense pride in knowing that Rajkot has once again been selected as the national winner from India under the global One Planet City Challenge 2017-18. Rajkot Municipal Corporation has embarked on a journey to adopt and implement various innovative and sustainable measures in its local practices along with engaging with the citizens in the process. We hope to continue implementing and mainstreaming sustainable actions in transportation, energy efficiency and renewable energy sectors while being engaged with WWF-India and ICLEI South Asia in future as well," said Ms. Binaben Acharya, Hon'ble Mayor, Rajkot.
After an initial evaluation by WWF and a global consultancy, a 19-member jury comprising of urban sustainability experts from around the world selected one city from each country as the National Winner and amongst them – one Global Winner. Rajkot is now in the run-up to bag the 'Global Winner' title alongside 22 National Winners from across the world.
Rajkot impressed the jury with its ambitious and innovative actions, especially on the uptake of renewable energy, waste management, adoption of sustainable mobility and most importantly for Rajkot's commitment to reduce 25% of total GHG emissions by year 2020 from city's baseline annual GHG emissions in 2012-13 and its comprehensive strategies in driving this change, the city stands out as a role model for other cities in India and around the world.
This year also, Rajkot city has prepared "Climate Resilient City Action Plan, 2022" as part of Swiss Agency for Development and Cooperation (SDC) funded Capacity Building for Low Carbon and Climate Resilient City Development in India (CapaCITIES) project, which includes detailed GHG emission and energy inventory, vulnerability and risk assessment for various sectors, and climate resilient strategies. This action plan will further help the city to become climate resilient, sustainable and livable city, which is also one of the most important aim of Government of India's Smart City Mission to develop sustainable and citizen friendly cities.
"Cities account for about 50% of the global population, while consuming 75% of natural resources and contributing about 70% of energy-related emissions. Given the rapid pace of urbanisation, cities have a significant role in meeting the climate and conservation goals, both at the local and global level. It is encouraging to see Indian cities taking the lead in positive and impactful ways to address climate change and related challenges. The efforts by Rajkot are commendable in this regard and we congratulate the city on becoming the 'OPCC National Winner' for the second time," said Mr. Ravi Singh, Secretary General & CEO, WWF-India.
Ms. Nanda Jhichkar, Hon'ble Mayor of Nagpur, also participated in the summit. She was part of the panel The High Level Affiliate Event on India Climate Actions which focused on climate action in India on building energy efficiency, efficient cooling, HFCs, renewable energy deployment, electric vehicles, sustainable finance, clean air, heat action plans and energy access.