ICLEI South Asia represents BEA at 3rd Sustainable Energy for All Forum in New York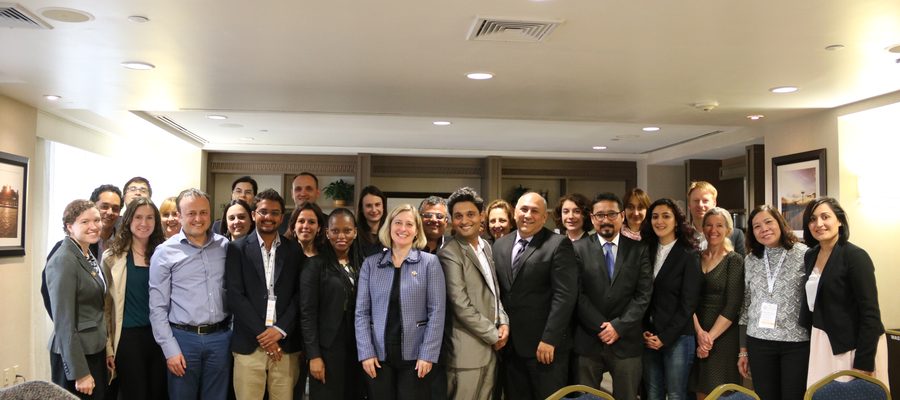 Over 1,000 high-level representatives from different governments, businesses, civil societies and international organisations gathered in New York City, from April 3-5, 2017 for the 3rd Sustainable Energy for All Forum – its theme "Going Further, Faster – Together."
The Building Efficiency Accelerator (BEA) was well-represented at the event: Nine BEA cities and 18 BEA partner organisations were present, totaling nearly 50 people.
ICLEI South Asia, in its capacity as the technical lead for Rajkot Municipal Corporation under building efficiency accelerator programme, represented at the forum and participated in all the related activities. Rajkot city is one of the deep dive cities and has also represented during the forum. The initiative is supported by World Resource Institute.
Partners and cities come together for an interaction
The forum gave an opportunity to all the partners and cities to interact face–to–face. These meetings proved very useful with regards to understanding each city's specific requirements on taking innovative actions in building efficiency and the support that may be expected from the partner organisations to fulfill those.
Connecting cities and technical experts
The forum was also useful to enable coordination amongst different technical experts and cities that aspire to explore and initiate innovative actions in the areas of building efficiency. Certain technical experts who hold experience in various dimensions of building energy efficiency held discussions with connected cities and learnt the scope and need of improvement in the present scenario.

Cities' feedback to make the BEA programme more effective
The cities have provided their feedback, thus helping to improve the collaboration and make it more strong and useful for the cities during the first City Advisory Panel meeting of BEA. The BEA partner cities provided inputs on BEA's successes, challenges, and areas for improvement, providing a forum for peer-to-peer exchange on BEA city implementation.
Training for cities, titled "How to Get your Efficiency Priorities Funded"
Time and again, cities are identifying finance as a top priority for their building efficiency actions – how to connect with investors, how to apply for financial support and how to develop projects in line with funder interests. To address these topics, the BEA held a day-long interactive training for BEA cities at the SE4ALL Forum. The BEA is developing specialized Energy Efficiency Project Data Templates to help cities compile the information investors seek when looking to fund building efficiency projects.
ICLEI South Asia is the regional lead from South Asia region under the Building Efficiency Accelerator partnership. It also serves as the technical lead for the city of Rajkot and has got a mandate to initiate and lead all the activities in the city related to the accelerator. Further, ICLEI South Asia will be coordinating with all the partners and technical experts to help the cities in India develop their action plans and intervene the innovative recommendations regarding changes in building bye – laws and other policies.