ICLEI South Asia Supports AIIB's Infrastructure Plans in Asian Cities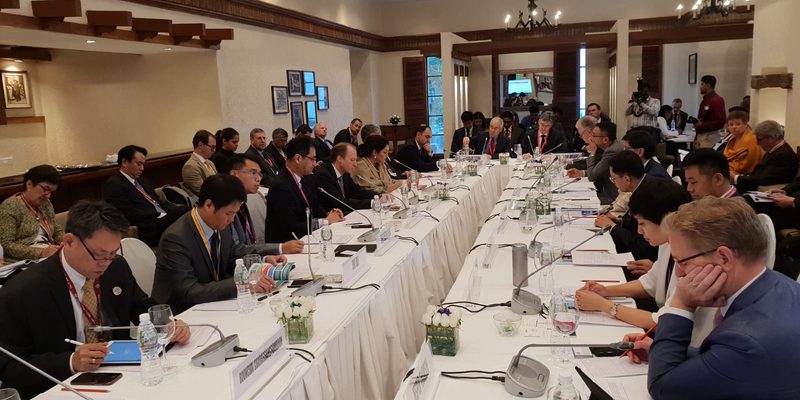 ICLEI South Asia, along with ICLEI East Asia, is supporting the Asian Infrastructure Investment Bank (AIIB) in its infrastructure plans for Asian cities for which the 3rd Annual Meeting was organised in Mumbai from the 25th to 26th of June, 2018. The event was jointly organised by the Department of Economic Affairs under Union Finance Ministry, India and AIIB. The theme for this year's meeting was 'Mobilising Finance for Infrastructure: Innovation and Collaboration'.
Mr. Narendra Modi, Hon'ble Prime Minister of India, also showed his support for the Bank and its commitment while inaugurating the event which brought government leaders, civil society organisations, partner institutions, and AIIB members to share knowledge and recommendations on addressing Asia's infrastructure gap in a sustainable way.

On the occasion, Jin Liqun, AIIB President, said: "We cannot discuss infrastructure and growth without also considering the environmental impacts of climate change. Environmental and social sustainability is a fundamental aspect of AIIB's support for infrastructure development and enhanced interconnectivity in Asia."
"Our vision is to work with all the governments and the private sector and try to give feedback to one another. In this regard, the private sector would be more willing to pour money into infrastructure projects. I believe we are not just a financier — we are problem solvers for both the government and the private sector," he added.
At the roundtable on AIIB's Sustainable Cities Strategy, focus was on supporting the infrastructural development of Asian cities in a better way. AIIB's proposed areas of infrastructure investments in cities are (a) enhancing urban mobility; (b) improving basic infrastructure and city resilience; and (c) promoting integrated development. The Bank has sought comments and contributions on its Sustainable Cities Strategy from both senior city representatives and urban development experts.
During the discussion, Mr. Shu Zhu, Regional Director, ICLEI East Asia Secretariat shed some light on the need for financing for improving basic infrastructure and resilience in Asian cities.
Moreover, ICLEI South Asia facilitated the participation of Ms. Rosy Senanayake, Mayor of Colombo, in the meeting. Ms. Senanayake spoke on the priority urban development projects like the solid waste management and sanitation. She also Invited AIIB to discuss future investment opportunities.

The event had several parallel sessions that discussed critical issues pertaining to environment, low carbon emissions, connectivity through railway network across borders and others.
The meeting was a follow up to the AIIB's stakeholder workshop with the CSOs and NGOs, in Delhi and Mumbai, to listen and understand their views on the Bank's overall development as well as business operations in India.
The 4th AIIB Annual Meeting will be held in Luxembourg in July 2019. Luxembourg is a founding member of AIIB as well as a leading international financial center and a facilitator of investments between Europe and Asia.