Interview: Mayor of Gangtok Shakti Singh Choudhary on how Gangtok is treating waste as treasure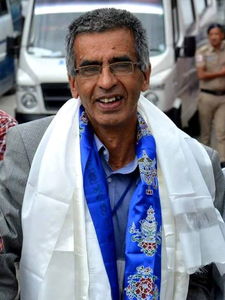 In conversation with ICLEI South Asia, Shakti Singh Choudhary, Mayor of Gangtok, Sikkim, shares how the hill city is capitalising on the waste that is generated and what the challenges involved are. Edited excerpts:

What are the measures that the city has adopted to manage waste?
The city has a huge vegetable market that generates lot of waste left-over waste every day. Gangtok now has a decentralised system to process waste rather than dumping all of it at one place. We earlier used to send the waste outside the city to be dumped or treated. With time we realised that sending waste outside the city involves more transport cost. We also tried to explain people that this would benefit them in many ways.
However, one big challenge has been to convince people that waste is not a liability and should be dealt with carefully. Once people and officials of the municipal corporation saw how composting wet waste also led to revenues, and were made aware of why minimum possible waste should reach the landfills, they were convinced. Besides, The Gangtok Municipal Corporation has a very effective system of daily household waste collection through ghanta-gaadis. However, segregation of waste at source is still a challenge.
Sikkim is also the first organic state of India. Are the cities inspired to drive the city to sustainability in more ways?

Cities like Gangtok have made it a priority to educate and make people aware on cleanliness and sustainability. The city is taking measures to recycle all agri waste and the state has already banned dangerous styrofoam. Tetra bottles and PET bottles have to be recycled too. The state had banned plastic bags long ago. Though enforcement of these measures has always been a challenge, but like previous efforts have yielded results, we are hopeful that ongoing determinations will also help make city more sustainable. Training and raising awareness of municipal corporation officers, along with efforts by organisations like ICLEI South Asia, has been an asset too.