Keeping People Safe: ATMs, Handwashing Stations Supply Clean Water in Rajshahi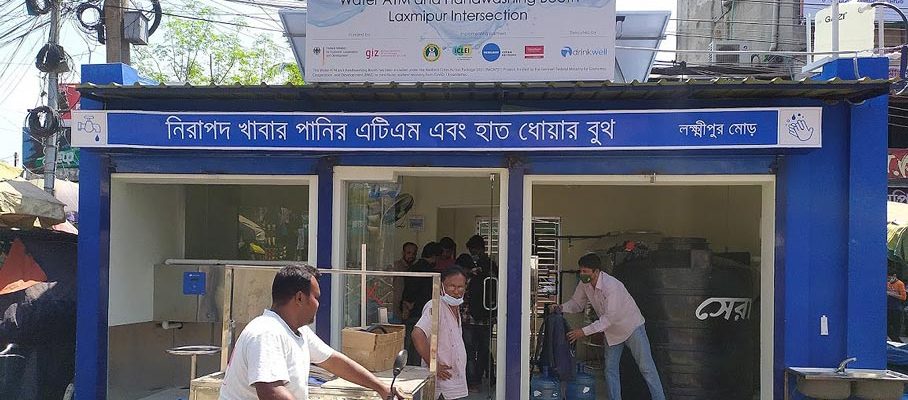 The city of Rajshahi has installed solar-powered water ATMs and handwashing stations at four locations under the Resilient Cities Action Package 2021 (ReCAP-21) project to help people access clean and safe drinking water. The initiative was implemented following discussions with the city corporation, with special attention being given to the needs of the most vulnerable population. The ATMs, which dispense drinking water at a nominal cost, are being powered by solar photovoltaic (SPV) systems to save energy and reduce associated greenhouse gas emissions risks.
More than 0.8 million people live in Rajshahi city, and the number continues to rise due to rapid urbanisation that puts severe stress on basic municipal services such as water supply and sanitation, including access to clean drinking water, especially for poor and vulnerable groups of the society. Currently, Rajshahi is heavily dependent on the central water supply system which, according to a recent study, does not meet the standards set by the World Health Organisation. The water ATMs and handwashing stations, installed under the ReCAP-21 project, are expected to minimise the risk of water-borne diseases by dispensing reverse osmosis-treated water for about 1.5 lakh people, including low-income communities and vulnerable groups. The installation of the water ATMs will also increase the municipal service level on safe drinking water coverage, and reduce non-revenue water and water pilferage. Easy access to handwashing stations is expected to help improve personal hygiene and cleanliness that will restrict the spread of the COVID-19 infection and other communicable diseases.
Since its inauguration, the number of people using the water ATM systems has been steadily increasing. In the first month of operation (the 2nd of April to the 28th of April), a Ramadan month, a total quantum of 68600 liters (@ 0.80 Bangladeshi taka/liter) of water were dispensed to 430 subscribers of the four ATMs. It is anticipated that the number of users and the water dispensing rate will increase significantly in the coming months as the people of Rajshahi are showing great interest in these easily accessible safe water dispensing systems due to the nominal cost.
The ReCAP-21 project is funded by the German Federal Ministry for Economic Cooperation and Development (BMZ), in partnership with GIZ, ICLEI, the Resilient Cities Network, and Cities Alliance.
The initiative is important for Rajshahi, as urban local governments are facing huge challenges in providing basic services to the people, exacerbated by the problems posed by the COVID-19 pandemic and growing climate change impacts.
To know more about the ReCAP-21 interventions in Bangladesh, read this blog: https://bit.ly/3Esvckc