Meeting held with the International and National transport experts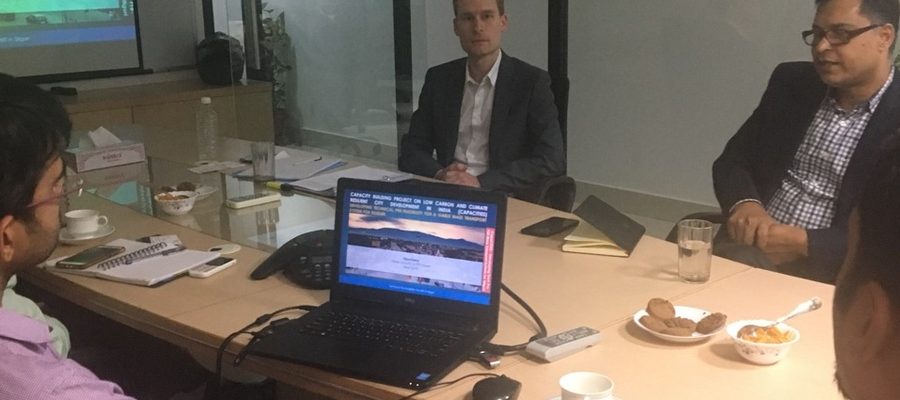 An introductory meeting was held at the ICLEI South Asia office in New Delhi on the 16th of November, 2017. Mr. Ashish Rao Ghorpade, Dr. Monalisa Sen and Ms. Bedoshruti Sadhukhan from ICLEI South Asia, Mr. Rohit Garg from the South Pole Group, Ms. Harshita Mehta from Sofies India, Mr. Nicholas Muehlich from SNZ Engineers and Consultants, Mr. Sanjay Gandhi from SG Architects along with a representative and Mr. Utpal Deka, were present. Dr. Monalisa Sen, Siliguri city coach, provided an overview of the CapaCITIES project while Mr. Ashish Rao Ghorpade, Udaipur city coach, shed some light on the transport projects in Rajkot, Udaipur and Siliguri.
The projects include, a technical study of the existing BRT corridor for last mile connectivity and pre- feasibility of potential electrification of the corridor in Rajkot, developing a low carbon IPT action plan in Udaipur, and developing technical pre-feasibility for a viable mass transport system in Siliguri.
Mr. Nicholas Muehlich, provided an overview about his firm, transportation planning in Zurich and their plans for the three cities. Mr. Utpal Deka provided an overview about Siliguri and his plans, timelines and deliverables. Mr. Sanjay Gandhi, detailed about his previous experiences working with the city of Rajkot and his plans and methodology for carrying out the project in Rajkot. Mr. Ravi Gadepalli, over Skype, provided an overview about the IPT sector on the whole, and later focused on plans for Udaipur.
The meeting concluded with discussions on the completion dates, investments and other operational aspects. The experts will now visit the cities to better understand the ground reality. The projects will be carried out over a period of four months.