Multiple Stakeholders Help Cities to Put Supply Chain Back on Track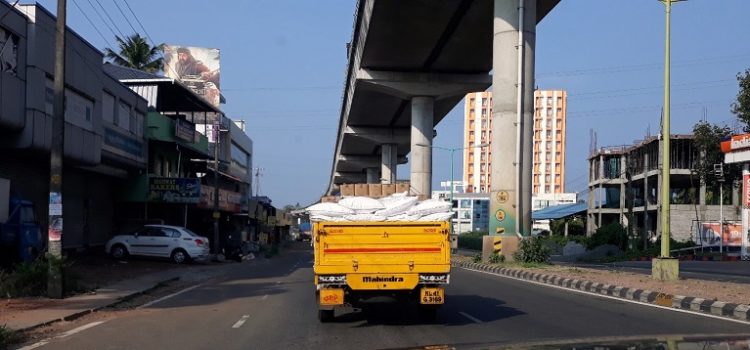 The Government of India announced the world's largest lockdown on the 24th of March 2020, to curb the spread of the COVID-19 pandemic and to set in place management protocols in the country.
The initial days of the lockdown impacted transport movement and market operations, delivering a massive shock to supply-chain networks of essential goods. Limited official communication, coupled with confused inter-state coordination and restrictions on vehicular movement led to a large number of freight vehicles getting stranded in several parts of the country. To tackle these issues, the national government formulated guidelines under the National Disaster Management Act, 2005, to provide some clarity and a uniform framework for the supply of essential goods. However, there has been uncoordinated response on the ground, mainly because the cities don't have any logistics strategy and plans.
Disrupted Goods Movement
In such a scenario, the private sector provided much-required support by establishing special teams to ensure real-time monitoring at operational locations, continuous liaison with local authorities and information management, and in developing safety protocols for work such as loading and unloading of goods and work in warehouses. But there are other key issues too, such as a shortage of truck drivers and their crew, as they have returned to their villages in large numbers, while the ones who stayed back are grappling with frequent checks and complicated border procedures. There is also a shortage of labourers for the loading and unloading of goods at factories and warehouses.
With the road freight-dependent supply chain getting disrupted, the Indian Railways stepped in to help, transporting a record 5.2 million tonnes of food grains between the 25th of March and the 25th of April 2020. It continues to ensure uninterrupted supply of other essential goods, in coordination with agencies such as Food Corporation of India. The national government has also provided the states with three months of stock under the Public Distribution System. Additionally, neighbourhood kirana stores have been ensuring the supply of essential items, with the store owners using their own vehicles to pick up goods from warehouses.
Local Government Action
Many urban local bodies too are playing a crucial role to ensure last-mile delivery of essential goods. Several cities have launched grocery and vegetable vans. Ahmedabad, Bhopal, Bhubaneswar, Chennai and Indore, besides Kochi, Ludhiana, Nagpur, Pune and Shimla, as well as Surat, Tirupur and Tirupati are facilitating doorstep delivery for the people.
The Uttar Pradesh government has deployed more than 40,000 vans and carts for door-to-door delivery of fruits and vegetables in various cities. Indore and Bhopal in Madhya Pradesh are partnering with NGOs to utilise the urban waste management system for goods delivery: a volunteer from an NGO travels with a waste collection team to hand out and collect forms for ordering groceries, which are then sent to specified stores for delivery to homes.
However, better planning is required to ensure a smooth supply of goods in a crisis. Supply chain analysis can help with strategic and tactical preparedness and operational collaboration at the city level.
The EcoLogistics Effect
In this context, the role of the EcoLogistics project – being implemented by ICLEI South Asia in the cities of Kochi, Panaji and Shimla – is important. The project aims to promote integrated urban passenger and freight mobility, in partnership with the respective municipal corporations. Supported by the German Federal Ministry for the Environment, Nature Conservation, Building and Nuclear Safety (BMU) through its International Climate Initiative (IKI) programme, it aims to prioritise strategies that will promote the transportation of goods with minimised impacts on air quality, noise, health, fatalities and injuries, and reduce traffic congestion and GHG emissions.
The lockdown has impacted the supply chains in Kochi, Panaji and Shimla, as in other Indian cities. However, their local governments are better prepared for collaborating with the private sector to deal with the crisis, because of their experience with the EcoLogistics project.
Kochi and Panaji have already constituted multi-stakeholder committees under the project, and in Shimla, the process is ongoing. These committees include representatives from government agencies such as traffic police, road transport office and the departments of town planning and transport, along with private organisations such as trade and transporters' associations, chambers of commerce, and local market representatives. These committees have been useful in coordinating with stakeholders involved in the supply of essential goods.
As a result, Kochi ensured uninterrupted movement of essential goods. The transport of vegetables, fruits and other essential supplies were resumed on the 30th of March 2020, with the provision that only sanitised lorries and other carriers could enter the markets.
In Panaji, the state and the local governments are coordinating with various NGOs and organizations. Free doorstep supply of essentials goods is being promoted, with the help of retailers, department stores and distributors. The movement of goods vehicles has been maintained with the issue of travel permits. A dynamic demand-supply assessment has helped the government to maintain the necessary stock of essential goods. Public transport buses have also been used to supply essential items.
In Shimla, the Shimla Beopar Mandal (trade association) and the city administration are collaborating to ensure flexibility in freight operations. With goods vehicles getting stranded at inter-state borders, private cars are being used for the last-mile delivery of essential items. The local administration has also ensured that porters can work during specified periods to transport essential items.
Meanwhile, the EcoLogistics project team is in the process of finalising city-level action plans that will include preparedness to ensure the supply of essential goods during crisis situations.