Panaji's illustrated natural asset map released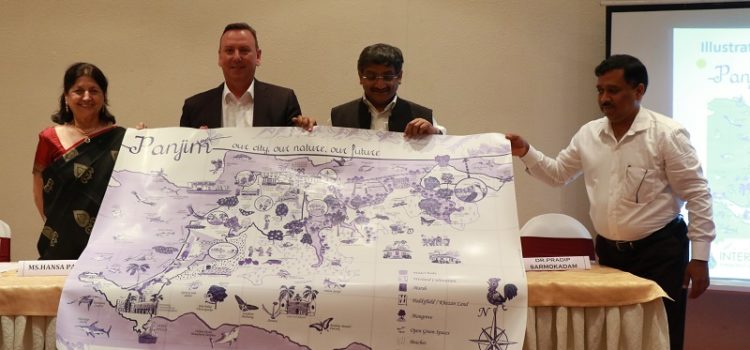 Dr. Puneet Goel, Principal Secretary, Forest & Environment, Government of Goa, India, recently released the illustrated natural asset map of Panaji, the capital of the state of Goa, at an event held recently. Dr Pradip Sarmokadam, Member Secretary, Goa State Biodiversity Board; Mr. Gino van Begin, Secretary General, ICLEI; and Mrs. Hansa Patel, Chairperson, ICLEI South Asia, also attended the event.
The map was later presented to Mr. Uday Madkaikar, Mayor, Corporation of the City of Panaji, and Mr. Sanjit Rodrigues, Commissioner, Corporation of the City of Panaji.
ICLEI South Asia has developed the map as part of the INTERACT-Bio project, which is supported by Germany's Federal Ministry for the Environment, Nature Conservation and Nuclear Safety (BMU). The illustrated map portrays the biodiversity wealth and critical ecosystems of the city, and will support the city government in undertaking integrated planning and in raising awareness among citizens about urban biodiversity. The initiative has been well appreciated by the government as well as the people.