Paving the path for successful IUWM practices: AdoptIUWM cities' plans for the next year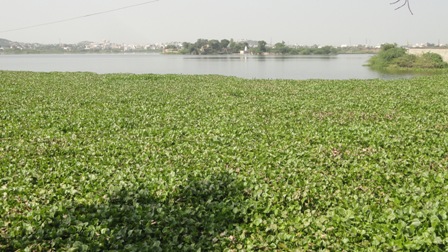 After one year of successful project activities, the project cities under the EU funded Adopting Integrated Urban Water Management (AdoptIUWM) Project are on their way to developing a Rapid Action Plan based on Integrated Urban Water Management (IUMW). Cities are also preparing a long list for the first pilot project to demonstrate the principles of IUWM. Subsequent to the first stakeholder consultation workshops in the cities, data collection at City and State level, consultations with City and State level officials and ward level reconnaissance surveys have also been undertaken in the project cities.
Ward level reconnaissance surveys were undertaken to validate the information collected through various means such as secondary data, consultations and workshops and to get a better idea about the situation at the ground level. Focus group discussions with selected city officials and citizen representatives were also conducted in nearly project cities to undertake spatial mapping of the urban water cycle, to discuss key issues faced by the cities and to prepare a list of tentative pilot projects for each city.
The key issues identified by the project cities for discussions were awareness generation in Solapur, traditional rain water harvesting systems and structures in Jaisalmer; and water metering in Ichalkaranji. Training in water quality testing is also being organised for the project cities, to help the local administration, NGOs and institutions to undertake preliminary quality check of the water resources in the city for which a portable water testing kit is being provided to each project city along with training on using the kit.
A State level Review Meeting was also organised in Maharashtra in January 2014 with State Government officials who encouraged ICLEI South Asia to form a committee at the State level for Integrated Urban Water Management. This Committee would involve stakeholders from all related State level departments and could be instrumental in facilitating interaction between the departments related to water and allied sectors.
For more information, visit http://southasia.iclei.org/our-goals/resource-efficient-city/adoptiuwm-adopting-integrated-urban-water-management-in-indian-cities/