Progressive results for SUNYA – residents in Coimbatore take a step forward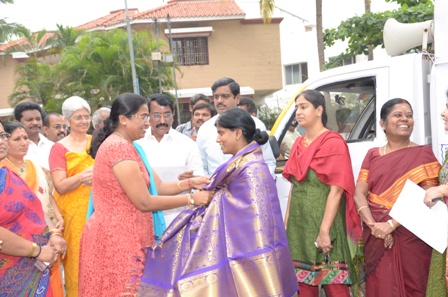 More wards to come under SUNYA-Towards zero waste in South Asia Project in Coimbatore.
30 residents from ward number 23 in RS Puram, Coimbatore, were presented with gifts and certificates from the Coimbatore Municipal Corporation, as a token of appreciation for engaging in source segregation of household garbage activities at their residence, as part of the SUNYA-Towards zero waste in South Asia project. Mayor SM Velusamy and Commissioner G Latha handed over the gifts themselves, together with other senior corporation.
The felicitation was an attempt to encourage and motivate more residents to engage in individual source segregation of waste. "We wanted to ensure that the residents are appreciated in their efforts to ensure source segregation here. We want to make sure that the practice can be sustained," said S Sivarasu, Deputy Commissioner.
The city municipal corporation had selected 500 households in five different streets in ward number 23 to carry out the trial run of Sunya project. The recyclable waste collected is handed over to a private firm while the civic body is planning to set up a vermicompost yard on Thadagam road in the adjacent municipal ward to divert the wet organic waste collected. At present, the organic waste is sent to the compost yard in Vellalore dump yard. Read more.
Led by ICLEI South Asia and the Municipal Association of Nepal (MuAN), the European Union funded project SUNYA-Towards zero waste in South Asia intends to introduce the concept of zero waste into seven municipalities of South Asia (Shimla and Coimbatore – India, Hetauda and Tansen – Nepal, Dhaka – Bangladesh, Matale – Sri Lanka and Phuentsholing – Bhutan), encouraging the 3Rs of waste management – reduce, reuse and recycle.
To know more about SUNYA-Towards zero waste in South Asia project, visit: