Regional Conference Highlights IAdapt Project Takeaways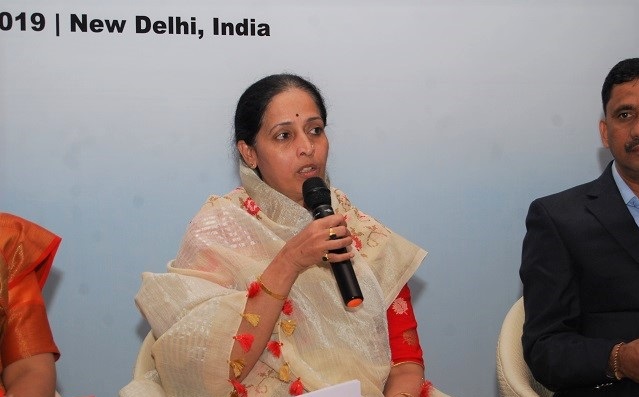 ICLEI South Asia organised an international conference under the Integrated Rural Urban Water Management for Climate-Based Adaptations in Indian Cities (IAdapt) project – supported by the International Development and Research Centre (IDRC) – on the 20th of November, 2019 in New Delhi.
The purpose of the event was to share valuable learning experiences from the two project cities – Solapur in Maharashtra and Vijayawada in Andhra Pradesh – and to showcase the success achieved under the project.
The conference was inaugurated by Mr. Rajiv Ranjan Mishra, Director General, National Ganga Mission for Clean Ganga, Ministry of Water Resources, River Development and Ganga Rejuvenation.
More than 100 representatives of cities, institutes, NGOs and activists from India, Nepal and Bangladesh attended the conference, including Dr. Navsharan Singh, Senior Programme Officer, IDRC; Dr. Umakant Panwar, Country Director-India, Athena Infonomics; Smt. Shobha Banshetti, Mayor, Solapur Municipal Corporation; and Mr. Emani Kumar, Deputy Secretary General, ICLEI, and Executive Director, ICLEI South Asia.

Dr. Navsharan Singh, IDRC addressing the participants
The project partners and representatives from Solapur and Vijayawada presented the outcomes and learning from the IAdapt project.
A session on principles and governance mechanisms for Integrated Rural Urban Water Management was conducted to discuss the Integrated Urban Water Management (IUWM) approaches for building water-resilient cities in India.
Mr. Sairam M, Associate Director, Athena Infonomics, shared the experience of implementing the project in Vijayawada with support from the local and district authorities.
Mr Nikhil Kulkarni, Assistant Manager, ICLEI South Asia, spoke on the experience of implementing the project in Solapur. This was followed by a panel discussion on the unique RURBAN platform, set up under the project in the two cities. This platform has helped rural and urban stakeholders to jointly plan the use of their water resources.

A participant engaging in a discussion at the workshop
Dr. S Mohan, Professor, IIT Madras, presented his work on understanding climate projections by developing models to explain the climate impact on water resources in Solapur and Vijayawada. The models scaled down regional projections to the city level.
Developing innovative financial approaches to promote integrated water management was one of the main objectives of the project. In the conference's final session, moderated by Dr. Alok Sikka, IWMI representative-India, potential sources of funding for integrated water management, with focus on wastewater management, were presented.
Ms. Subhra Jain, independent consultant to IWMI, spoke on the potential of wastewater reuse in urban India and the guidance principles for implementing such projects.
Dr. Kaushik Basu, consultant, IWMI, presented the financial feasibility of wastewater treatment and reuse, with reference to the studies conducted under the project in Solapur and Vijayawada.
The participants actively took part in the open discussions and appreciated the work done under the project. As water management is an issue that concerns the entire South Asian region, the participants from Nepal and Bangladesh too would gain deeper understanding from the findings of the project, although it is being implemented in India.