RURBAN Meeting Reviews Project Progress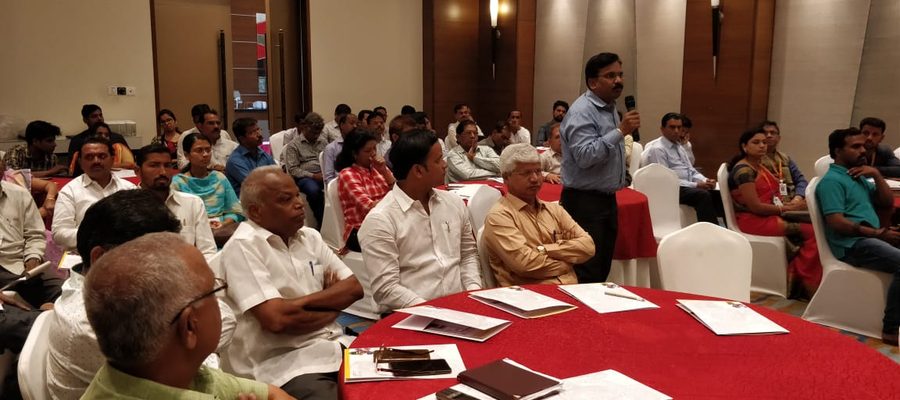 Second Meeting in Solapur
The second RURBAN meeting in Solapur was held on 2nd March 2019. It was conducted under the aegis of the IDRC-supported Integrated Rural Urban Water Management for Climate Based Adaptations in Indian Cities (IAdapt) project.
The meeting was organised by ICLEI South Asia in collaboration with Smart City cell, Solapur.
The aim of the meeting was to update the stakeholders on ongoing project activities, share the results of the IAdapt tools, and to finalise the pilot project that would be implemented in rural and urban areas. The meeting was chaired by Shobha Banashetti, Mayor, Solapur Municipal Corporation (SMC); Deepak Taware, Commissioner, SMC; Trimbak Dhengle, Deputy Commissioner, SMC, and Vijay Londhe, Deputy CEO, Zilla Parishad, Solapur.
Among those present at the meeting were representatives from: the departments of Public Health Engineering, Town Planning and Health, besides the City Engineer from urban areas; Dayanand College faculty, Solapur University; GSDA Department, Solapur; gramsevaks (development officer) from three pilot villages selected within the micro-catchment area; elected representatives of two villages; the water resources department; Pani Foundation, Maharashtra; Jeevan Pradhikaran (rural water supply); agriculture department; and NGOs working in the selected micro-catchment area.
Partners prepare IAdapt work plan
The third project partners' meeting was conducted on 14th and 15th March 2019 at Athena Infonomics in Chennai. Teams from partner organisations working under the IAdapt in India — Athena Infonomics, IIT Madras and ICLEI South Asia — presented updates on the project activities and discussed the next semester's work plan.
The IIT-M group made a detailed presentation on the climate modelling used for Solapur and Vijayawada. They also explained the use of MIKE software that would be used for conducting flood and drought vulnerability analysis in the cities.
The Athena representatives introduced the decision support tool being developed under the project. The ICLEI South Asia team presented the draft integrated catchment management plan being formulated for the Solapur-Ekrukh micro-catchment area. All the partners agreed to schedule a monthly meeting to finalise the output of the project.