Seven cities finalised for an assessment of their green growth potentials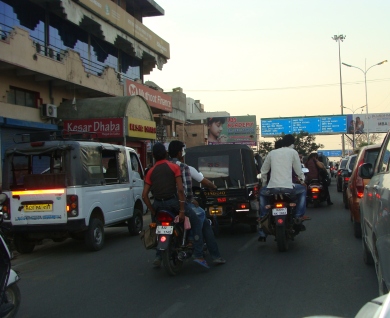 Kota, Agra, Cochin, Shimla, Dehradun, Agartala and Ludhiana are the first seven proud cities that have been finalised for the project 'Urban Green Growth Strategies for Indian cities' and will be assessed for their green growth potential and opportunities. The selection of the remaining five cities will be done post elections.
Kota, the third largest city in the state of Rajasthan has been chosen as the pilot city for the project assessment. The project team was present in the city from 29 April – 1 May 2014 during which Mayor Ratna Jain, numerous stakeholders – including key officials from Kota Nagar Nigam, Urban Improvement Trust (UIT), Public Health and Engineering Department (PHED), RIICO (Rajasthan state Industrial development & Industrial corporation), Small Scale Industries association (SSI) and others – were consulted to better understand the local context and see how a green growth approach could be applied to the city of Kota.
The ICLEI South Asia project team, with support from the Kota Nagar Nigam, conducted a focus group discussion on how to develop a deeper understanding of issues, barriers and opportunities related to local economy, urban infrastructure & service and poverty in the city. The major issues that are prevalent in the city other than the high leakage rate in the water supply distribution network are – a slowdown in the rate of industrial activities, conversion of fertile land for development purposes, sanitation issues in slums, a shortage of affordable housing and the absence of dedicated infrastructure for solid waste management. These elements will be taken into consideration when developing a green growth strategy for the city of Kota. Mr. Jogaram, district collector, Kota Nagar Nigam, acknowledged the project initiative while saying, "This is a new concept; green growth in the Indian context should focus on the economy at the local level without compromising the quality of life and environmental health".
The mayor of Kota, Dr. Ratna Jain, appreciated the team for selecting Kota as the pilot city for the project assessment and discussed various issues that are relevant for her city, focusing on solid waste, affordable housing, wastewater and renewable energy.
The project 'Urban Green growth Strategies for Indian cities' aims to develop a deeper understanding of green growth benefits, opportunities, and potential for economic and urban development, as well as to build internal capacity on strategic planning and financing for green growth.