Side Event Session Discusses Water Resource Conservation and Management for Climate Resilient Development at COP24 India Pavilion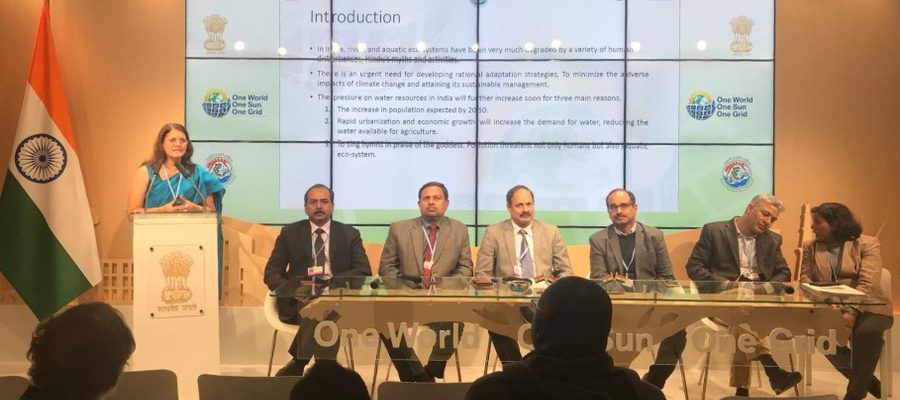 As an enabler of promoting Integrated Urban Water Management (IUWM) in urban centres, ICLEI South Asia was invited by the Ministry of Water Resource, River Development and Ganga Rejuvenation to showcase its IUWM project implementation experiences in India during a side event at India Pavilion on the 12th of December, 2018. The session witnessed gathering of various key speakers and experts discussing on diverse challenges in the water resources sector in India and possible solutions for them.

India is blessed with an abundance of water resources and large rivers, but still it is currently facing the terrifying possibility of becoming a water scarce country by 2025. As per a recent estimate by Niti Aayog, around 600 million Indians face high to extreme water stress and about two lakh people die every year due to inadequate access to safe water.

Speaking on the need for adoption of IUWM in Indian cities, Mr. Emani Kumar highlighted how most of the cities bring water from distance sources and more than 40% of water produced in many Indian cities does not earn any revenue. It was also mentioned that cities are key in addressing climate change through integration of water, energy nexus and climate resilience strategies into local development planning. However, insufficient infrastructure and lack of institutional reform is hampering the efficiency of urban water sector.
Mr. Kumar suggested that urban water management in cities requires catchment approach. Further, there is need to institutionalise climate change adaptation measures through the creation of an enabling ecosystem to adopt and implement IUWM approaches and IWRM approaches at catchment level guided by participatory catchment planning, simple decision support tools, preparation of catchment level action plans and multipronged financing approaches.

This was followed by presentations on ICLEI South Asia's regional (IAdapt) and city (adopt IUWM) level projects on Integrated Water Management.

Other speakers from government, private and non-governmental sectors discussed National Water Mission and various aspects of improving water use efficiency. Benchmarking approach to address water use efficiency in domestic, agriculture and industry sector were also showcased.