Solutions Gateway now open to all cities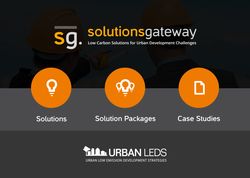 The Solutions Gateway, an online platform on Low Carbon Solutions for Urban Development created for cities and towns, was launched at the ICLEI World Congress 2015 in April 2015. It is now available to all local governments, free of charge.
This innovative platform, tailor-made for local governments, was developed to assist cities and towns in mainstreaming low emission development into urban plans, projects and processes. Through advanced guidance based on good practice, this platform helps local decision-makers to avoid "reinventing the wheel" and instead to "optimize its function". Proposed solutions include a reality-check approach to help users take into account local circumstances and contexts.
When it comes to low emission development planning and implementation, technology is important – but much more is needed. The Solutions Gateway offers an integrated approach to urban development challenges. It includes enabler and multiplier actions, thus helping to optimize the effectiveness of "solutions". Case studies illustrate how approaches were implemented, showing good practice in action.
The Solutions Gateway is also linked to a growing Pool of Experts – a global network of professionals who work with local governments in various areas relevant to low carbon development. The Pool of Experts is an informal LinkedIn group, with thematic subgroups, enabling local government representatives to exchange directly with experts. We warmly invite you to join and connect.
The Solutions Gateway was developed through the Urban-LEDS project ("Promoting Low Emission Urban Development Strategies in Emerging Economy Countries"), funded by the European Commission, and jointly implemented by UN-Habitat and ICLEI.
Visit the Solutions Gateway website to explore what is on offer. To gain full (free) access to the contents and resources of the Solutions Gateway, please register and login at www.solutions-gateway.org (only for representatives of local governments and supporters of the Solutions Gateway).