Spotlight on Cochin, India – An interview with Mayor Tony Chammany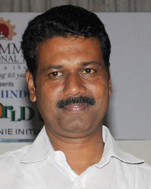 What would you describe as Cochin's main achievements in the field of sustainability?
The city of Cochin has a strong Solid Waste Management system that involves door-to-door collection, segregation and transportation of waste. We are also focusing on water transportation to ease the traffic congestion; a detailed project report will be prepared for this purpose. Another major achievement of the city is the preparation of the draft Master plan for the city for which a stakeholders meeting has been conducted. Cochin has also been selected as a take-up city: cities that have shown a real sense of commitment to assess opportunities for the transfer of innovative solutions to their context, for the SOLUTIONS (Sharing Opportunities for Low carbon Urban transportation) project.
How has ICLEI South Asia's support helped you achieve these goals?
ICLEI South Asia has been providing technical expertise for the successful implementation of major sustainable urban development projects that have helped the city to explore areas of efficient use and production of energy. They have also been supporting the city in the development of a Project Report under the Solar City programme of Ministry of New and Renewable Energy (MNRE). Another major achievement for Cochin was 'AsianCitiesAdapt: Learning Exchange', the closure workshop of the AsianCitiesAdapt project, organised by ICLEI South Asia, which gathered more than 100 participants and experts from Europe, the Philippines and all over South Asia and India; and helped our city in gaining immense exposure and expert advice on becoming more resilient. Also, the SOLUTIONS project has made available for the city of Cochin documented good practices from a range of leading international cities and detailed information on those that are most relevant for Cochin itself.
Cochin officials have also had tremendous opportunities to be a part of international workshops and events that have helped in building their capacity and make them more aware about the latest trends and technologies available in the sustainability sector.