Spotlight on Coimbatore (India) – Interview with Hon'ble Mayor S M Velusamy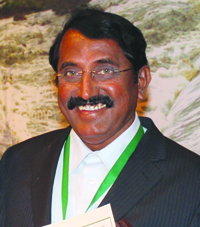 ICLEI South Asia has started a series of interviews with our member city Mayors and Commissioners, to get to know them and their cities better and find out how ICLEI South Asia has helped them achieve their sustainability goals. First in this series is Honorable Mayor S M Velusamy, Mayor of Coimbatore, India.
What would you describe as Coimbatore's main achievements in the field of sustainability?
With the support and guidance from our Honorable Chief Minister of Tamil Nadu, the Coimbatore Corporation has initiated numerous sustainability projects in Coimbatore. The Corporation's main achievements in the areas of energy saving and solar implementation initiatives have contributed to considerably reducing maintenance costs and to preserving the environmental ecology of the city. In tune with the expanding global policy, the Corporation is also aiming at making Coimbatore completely solar-energy based and at introducing a non motorised transport system that will further help in eliminate environmental pollution.
In addition, the Corporation is implementing schemes such as tree plantation, yearly distribution of free laptops and cycles to school students, herbal restaurants to improve people's health, Amma restaurants that offer low-cost food and so on. To conserve water, rain water harvesting structures must be included in a building plan before getting the Corporation's approval. Currently, out of 64,000 street lights, more than 37,000 are equipped with energy saving devices; another 22,000 LED lamps will replace the existing tube lights, further reducing our energy consumption.
How has ICLEI South Asia's support helped you achieve these goals?
ICLEI South Asia's cooperation has been crucial in ensuring the implementation of our sustainability projects. We could take advantage of technical capacity-building and the availability of best practices from other cities. ICLEI has supported the successful implementation of the project "SUNYA – Towards zero waste in South Asia" as well as our Solar City programme. As an ICLEI member, the city of Coimbatore is undoubtedly benefitting in the areas of solar implementation and energy efficiency, capacity building and all in all environmental sustainability.