Stakeholder consultation in Kochi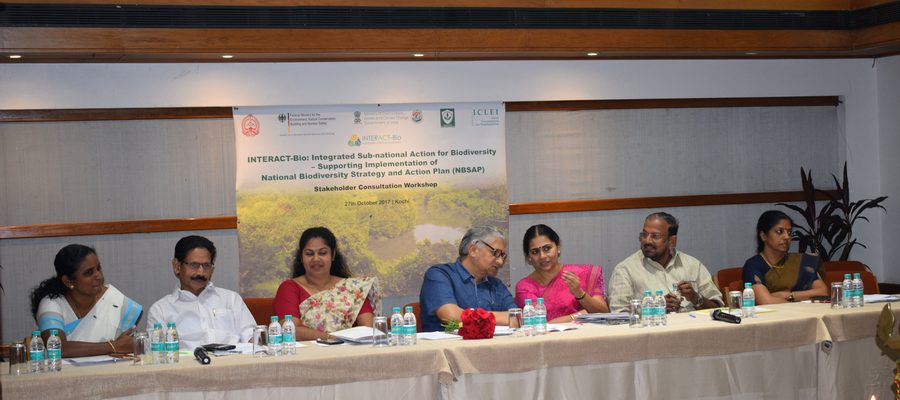 Under the German funded INTERACT- Bio project in Kochi, a stakeholder consultation was organised by ICLEI South Asia, with support from Kochi Municipal Corporation on the 27th of October, 2017.
In the inaugural session, the Honorable Mayor of Kochi, Ms. Soumini Jain expressed her pleasure at Kochi having been selected as the model city for this project, from among all Indian cities. She emphasised on the need and criticality of the project for the city of Kochi, which harbours unique biodiversity and is facing severe pressures of urbanisation. She also highlighted that the project will not only carry out some research work but will also put the same into implementation. Dr. S.C Joshi, Chairman, Kerala State Biodiversity Board remarked that Biodiversity should not be viewed in silos and should be mainstreamed into the development and planning process. Mr. K. J Anthony, leader of the opposition, emphasised on the need to integrate marine biodiversity and related livelihood aspects in the project since the city is heavily dependent on this sector.
Ms. Shiny Mathews, Chairperson of the Standing Committee Town and Country Planning presented the road map ahead for the project and mentioned that as a next step an ecosystem service evaluation workshop will be conducted in the month of November 2017, which will be facilitated by experts from ICLEI and UFZ. The project will identify possible pilot projects through the workshop and further stakeholder consultation. Over the next four years the project will also lead to the development of the local biodiversity strategy action plan for the city of Kochi. Mr. Ajayagosh K D, Superintending Engineer, KMC also addressed the gathering and highlighted the benefits that the project will bring to the city and ensure sustainable urban development.
The stakeholder consultation saw the participation of more than 70 members representing Kochi's public, academic, administrative and NGO sectors. Dr. Monalisa Sen, Programme Coordinator of ICLEI South Asia, presented the objectives of the project while Mr. Alex Jose, the city associate of ICLEI South Asia presented the information regarding institutional structures and biodiversity related issues identified till now through the project.
The one-day consultation identified how the project could impact the city through interventions with a strong biodiversity focus ultimately tying into essential services provided and how horizontal and vertical integration could be achieved. The consultation was highly participatory with group exercises that facilitated the inclusion of ideas from all participants in the selection of project priorities. Participants, through the group exercises helped to identify the key actors, challenges for biodioversity conservation and critical ecosystems for the city of Kochi.
A mapping exercise was also conducted to identify Kochi's critical ecosystems for further studies through the project. All the information will finally feed into the development of natural asset maps for Kochi that will be used for the LBSAP.
Key people who attended:
Mrs. Soumini Jain, Hon'ble Mayor, Kochi Municipal Corporation
Dr. S. C. Joshi, IFS (Retd.), Chairman, Kerala State Biodiversity Board
Ms. Gracy Joseph, Chairperson, Standing Committee for Development, KMC
Adv. Minimol V K, Chairperson, Standing Committee for Health, KMC
Mr. Ajayagosh K D, Superintending Engineer, KMC.
Mr. K J Antony, Hon'ble Leader of Opposition, KMC
Mrs. Shiny Mathews, Chairperson, Standing Committee for Town Planning, KMC
Dr E A Jayson, KFRI
Dr P S Easa, Retired Scientist, KFRI
Dr Sankar, Retired Scientist, KFRI
Dr Ranjan Mathews, WWF
Dr Shyam, CMFRI
Dr Anantha Pai, City Incharge, BMC