Stakeholder Engagement Event on 'Ecosystem Services and Poverty Alleviation in Urbanising India'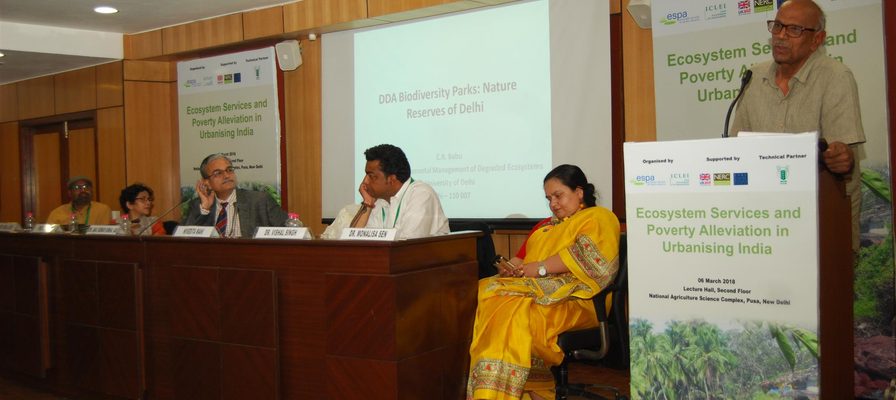 A conference on 'Ecosystem Services and Poverty Alleviation in Urbanising India' was organised by Ecosystem Services and Poverty Alleviation (ESPA) and ICLEI South Asia in New Delhi on the 6th of March, 2018.
The stakeholder engagement event was to disseminate the insights on urbanisation in South Asia generated through the ESPA programme, which was funded by the UK Natural Environment Research Council (NERC), Department for International Development (DFID), and Economic and Social Research Council (ESRC).
The interactive event was structured with presentations from ESPA partners to summarise findings on peri-urban ecosystem services which can reduce poverty and enhance wellbeing of the urban poor, as well as panel discussions to get reflections from national, state and city governments in India on these issues. The event brought together scientists and academics, researchers, development professionals, planners, elected representatives, government departments and peri-urban community members.
Some of the significant messages which generated discussions were the implications of poor decisions in urban planning, non-inclusive sustainability agendas, the impacts the loss of commons can have on the poor, the power of social mobilisation and clear science communication, the possibility of using good science to restore degraded ecosystems, and the wide-availability of tools which deliver economic benefits while reducing environmental damage. Most of all, the crucial role of mainstreaming ecosystem service considerations in the planning process was recognised.
"Our research shows sustainability has a very little focus. During urbanisation and city forest developments, the rural identity and memories are lost," said Dr. Pritpal Randhawa from Jawaharlal Nehru University.
It also emerged that agricultural land in peri-urban and urban areas does not have any protective safeguards. There is a lack of any focus by governments on peri-urban areas. There is institutional failure at several levels and absence of integrated and holistic mode of planning.
"Peri-urban is nobody's child. It is neither rural nor urban. Peri-urban provides resilience, food, vegetables, and milk. But peri-urban is just treated as a dumping ground by us", said Ms. Nivedita Mani from GEAG.
"The question is how to preserve the natural heritage which is critical to sustaining the urban environmental quality. The answer is to recreate the natural heritage in the form of biodiversity parks," said Prof. C R Babu, Professor Emeritus, CEMDE.
The engagement event helped to bring forth perspectives of a varied range of stakeholders. The event also brought forth the fact that very little is understood about ecosystem services and peri-urban areas.