Stakeholders Discuss Low Carbon and Climate Resilient City Development in India at COP24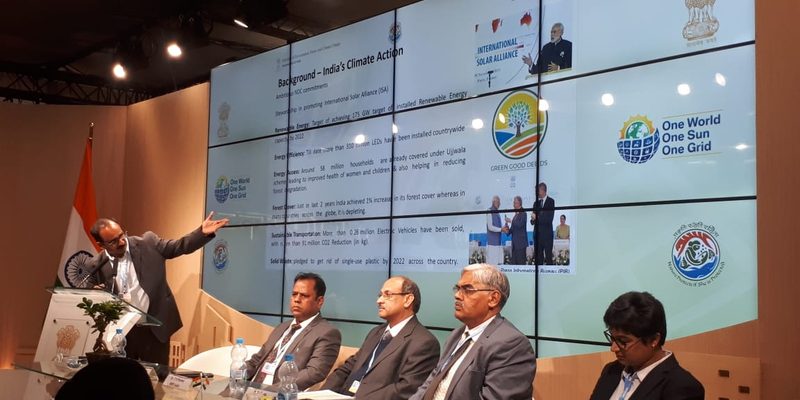 To showcase best practices being implemented in Indian cities and share knowledge on ways to integrate low carbon and climate resilience measures in urban planning, ICLEI South Asia supported National Bank for Agriculture and Rural Development (NABARD) to hold a session on 'Climate Smart City Initiative in India' during COP24 at Katowice, Poland.
The session witnessed knowledge sharing and deliberations featuring distinguished representatives from government, private and non-governmental sectors on mainstreaming climate actions in cities.
The adoption of the Paris Agreement at the COP21 was a turning point. It facilitates global climate action from 196 countries to take action towards a commonly agreed goal.
One of the key highlights of the Paris Agreement is that it recognises local government's role in global climate action. At present, urban communities contribute up to 70% of energy-related GHG emissions globally. They are also among the most vulnerable hotspots for climate change impacts. Globally, national and local governments are increasingly tackling the climate challenge with a sense of urgency. Integrated climate action in the areas of mitigation and adaptation are being implemented through appropriate policies, partnerships, capacity building and innovative mechanisms to access finance and technology.

The Indian government is committed to reducing GHG emissions and ensuring sustainable urban development. This has been clearly mentioned in its Nationally Determined Contributions (NDCs) submitted to the United Nations Framework Convention on Climate Change (UNFCCC). India's contribution relies on effective planning at the national level with active participation from local and sub-national governments.

During the session, ICLEI South Asia presented the experience from the Capacity Building for Low Carbon and Climate Resilient City Development (CapaCITIES) project. The project is funded by the Swiss Agency for Development and Cooperation. It aims to strengthen the capacities of Indian cities to identify, plan and implement measures for achieving lower greenhouse gas emissions growth path and enhancing resilience to climate change in an integrated manner.
ICLEI South Asia informed the participants about various initiatives in the four project cities – Siliguri, Rajkot, Coimbatore and Udaipur. Quick win projects showcasing good practices on climate resilience such as ground water recharge, segregated waste collection and decentralised waste management practices, use of renewable energy, installation of Ambient Air Quality Monitoring Stations, use of E-rickshaws and acoustic leak detection in water supply systems were discussed.
Need for coordinated action across all levels of government was recognised as a key enabler to help achieve India's climate commitments.