SUNYA Project Launched in Coimbatore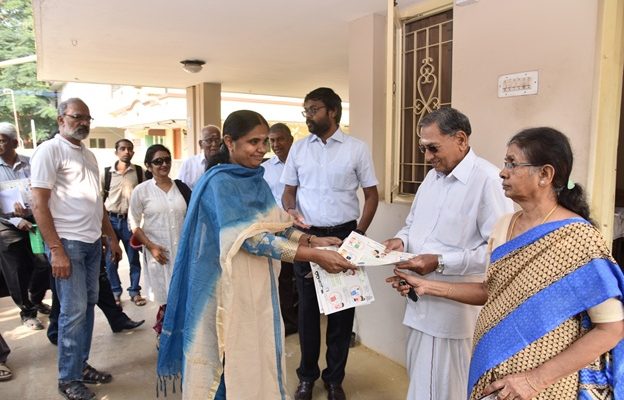 The official launch of the SUNYA project was held on the 29th of December, 2017 at Bharathi Park Road 2nd Cross, ward 22 of West Zone, Coimbatore Corporation, by the Commissioner Dr. K. Vijayakarthikeyan IAS.
To begin with, the Commissioner briefed the citizens of ward 22, local NGOs, Coimbatore City Municipal Corporation (CCMC) Officials, sanitary workers and stakeholders about the project. He requested the residents of the ward to segregate their waste into biodegradable and non-biodegradable sections and to handover the segregated waste only to the pushcart workers and not to irresponsibly dispose their waste on the roads and drains. He pointed out that public participation is vital to success of this project and urged all the stakeholders and CCMC officials to lend in their cooperation.
The Commissioner insisted that the pushcart workers collect the organic waste at the doorsteps of each household daily, without fail. The CCMC workers collect inorganic waste every Wednesday. He discussed with the Assistant Commissioner and Zonal Sanitary Officer of the West Zone, to prepare the sanitary worker's time chart which describes the pushcart worker's routes, their collection timings and contact numbers. The time chart will be shared with all the households of the ward for convenience to hand over the segregated waste to the sanitary workers concerned and will be monitored by the sanitary supervisor.
The Commissioner and Deputy Commissioner commenced the door to door awareness campaign and distributed Information, Education and Communication (IEC) pamphlets to the public along with CCMC officials, local NGOs, Ladies Association of ward 22 and ICLEI Staff.
The CCMC officials, local NGOs, Ladies Association and ICLEI Staff discussed streamlining the IEC activities, at the end of the event.