Swiss Ambassador inaugurates AQMS, establishes biomethanation plant in Coimbatore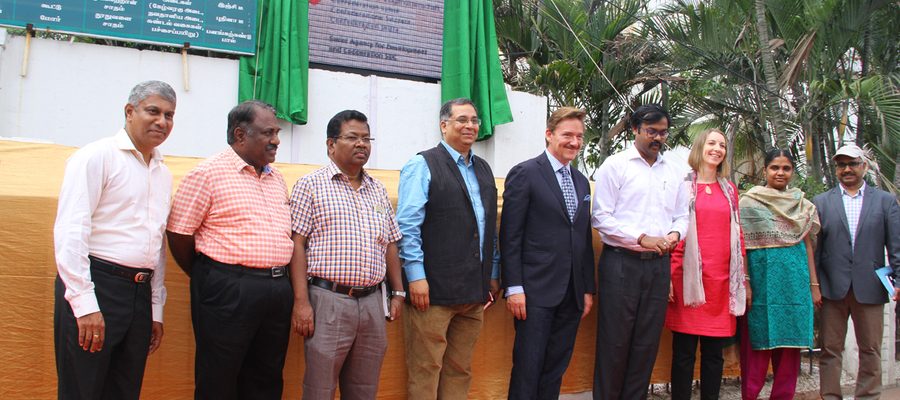 His Excellency Dr. Andreas Baum, Ambassador of Switzerland to India and Bhutan visited Coimbatore, as part of the CapaCITIES project, on the 15th of March, 2018.
The CapaCITIES project is supporting various quick win projects in Coimbatore such as the establishment of four air quality monitoring stations at 4 places in the city. One of these, located at the Town Hall where a display board is projecting the air quality results from these 4 stations, was inaugurated today by the Ambassador and the Municipal Commissioner Dr. K. Vijayakarthikeyan, IAS.
"I think the project is going good. It is a great developing experience in four different cities. Happy to see what the team is doing here. It is relieving to get support from the Corporation in the city," said Dr. Baum.
Swiss Ambassador inaugurates the biomethanation plant.
The project is also supporting the establishment of a 1 TPD biomethanation plant at the Farmer's Market in ward 23. The foundation stone for this plant was also laid by the Ambassador and the Commissioner.
"The biomethanation plant will ensure that the organic waste is converted to biogas which will help to generate electricity. These activities are in alignment with the solid waste management strategy 2035 (that has been developed under the CapaCITIES project) for the city of Coimbatore. It involves setting up 4 biomethanation plants that will help process 200 tons of biodegradable waste. The one ton biomethanation plant for which we are laying the corner stone is part of the strategy and it will help to build the capacities of the municipal staff in the city," he added.
"The people of Coimbatore have actively participated in all the initiatives. It has been a very positive experience which helps our case. The ground level work is promising here," said Mr. Vijayakarthikeyan.
"We now need a revamp of the public transport mechanism as the usage of private vehicles is very high in the city. A feasibility study around that will take some time," he added.
Swiss Ambassador, along with the Commissioner, at the Farmer's Market, Coimbatore.
The Ambassador planted a tree at one open dumping site which has been cleared under the project. He also handed over the keys of an organic storage bin procured under the project to the sanitary inspector of ward 22.
Moreover, he interacted with the Women's Association of ward 22 where a pilot waste segregation project – SUNYA project – is being implemented through the CapaCITIES project. The Women's Association is actively partnering with the CCMC to implement the pilot.
Ms. Marylaure Crettaz, Head of SDC, said, "Coimbatore is setting an example in solid waste management. They are doing it well here, and we are now planning to replicate the process in other cities under the project."