Takeaways from Thane Solar cell's awareness activity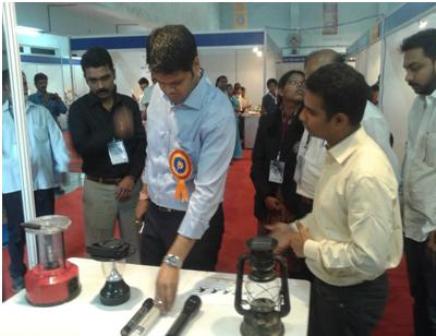 Teams from numerous schools presented their projects based on Energy Conservation, Renewable Energy and Energy Efficiency at 'Oorja – The Power of Dreams', an inter-school science carnival organised by Shreerang Education Society, Thane. This awareness activity conducted under the Solar Cell, Thane, witnessed the participation of more than 500 people, including representatives of the Thane Municipal Corporation and ICLEI South Asia.
The awareness theme was divided into two parts – Renewable Energy (RE) and Energy Efficiency (EE). Different electrical appliances and demo models were showcased under both the categories (e.g. Solar Water heater, Solar lighting, Solar lantern, Solar torch, bicycle, Energy efficient lighting etc). The policies of Thane Municipal Corporation promoting use of renewable energy were presented as well. The carnival also showcased information on the Star rating program of Bureau of Energy Efficiency as well as its importance. Show-casing practical benefits of the use of energy efficient lighting system were very useful in attracting the attention of many people.
Through this activity, the Solar cell got familiarised with questions regarding RE and EE from the point of view of the community. The need to provide cost analysis along with the information about reliable manufacturers, dealers and service providers of RE and EE appliances was one of the issues that emerged.
Representatives of the Thane Municipal Corporation suggested installing bicycles in community gyms to generate energy while solving the basic purpose of physical exercise.