The Asia LEDS Partnership Secretariat participates in deliberations on Sri Lanka's Nationally Determined Contribution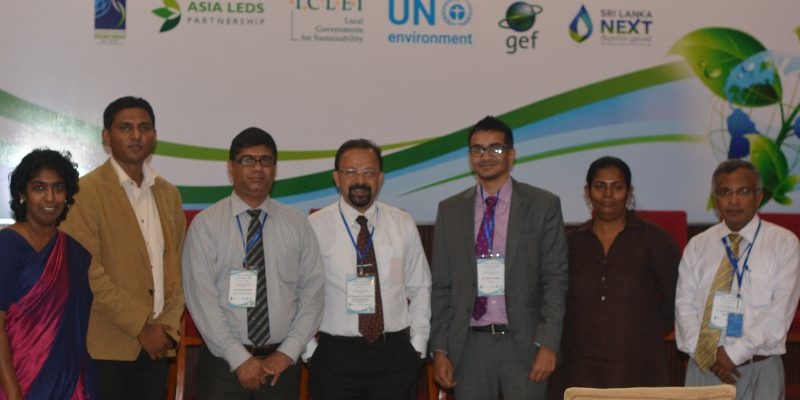 The Asia LEDS Partnership (ALP) Secretariat was invited to participate and contribute to the 'NDC Dialogue' organised by the Ministry of Mahaweli Development and Environment, Government of Sri Lanka in collaboration with United Nations Environment Programme (UNEP) and Global Environmental Facility (GEF) and the ALP on the 16th of October, 2017 in conjunction with the "Sri Lanka NEXT: A Blue Green Era" Programme conference held from the 16th to 18th of October, 2017.
The half-day dialogue brought together key national stakeholders including practitioners, NGOs, private sector, experts and policy decision makers from the 14 NDC sectors identified in the Sri Lanka's Readiness Action Plan for NDCs, 2017-2019. The objective of the dialogue was to discuss the specific actions targeted and issues arising from the implementation of NDCs in Sri Lanka and necessary steps for further planning, development, and monitoring at both national and sub-national levels.
Nikhil Kolsepatil from ICLEI South Asia and the ALP Secretariat team delivered a presentation to set the stage for the dialogue by providing an overview on NDCs and highlighting key aspects for effective NDC implementation. The presentation also highlighted the activities, support and resources available under the LEDS-GP and ALP in this regard.
The dialogue included presentations on Sri Lanka's Mitigation and Adaptation NDCs across 14 sectors and lively deliberations on the status and gaps towards NDC implementation in relation to aspects of stocktaking, technology, financing, transparency, governance, monitoring and reporting. Discussions on disaster risk reduction and private sector investment for NDC were also undertaken.
At the end of the session, the ALP Secretariat summarised the key takeaways and recommendations from the dialogue, with regular deliberations and engagement of stakeholders highlighted as step in the right direction towards effective implementation of NDC actions. For more information, please visit the web pages of Sri Lanka NEXT: A Blue Green Era Programme and Expert Dialogue on Sri Lanka's NDC.
Sri Lanka has been recently selected to receive technical assistance from the Sub-National Integration Working Group of the LEDS Global Partnership (LEDS GP), with the support of the ALP. Assistance will be provided to Sri Lanka on 'Multi-level Governance Climate Action' which will help sub-national integration of the country's NDC and long-term LEDS.
The dialogue and subsequent meetings conducted during the visit also helped the LEDS GP and the ALP to better understand the priorities, status and context of NDC implementation in Sri Lanka and will be useful for the technical assistance to be provided.