Tier-II Cities are Driving India's Push for Electric Buses

A quiet revolution has been steadily making an impact on the streets of some of the tier-II cities in India and is gradually changing the face of transport. Away from the large metros, these cities are driving change by aggressively pushing for electrification of buses in their public transport systems.
The Government of India is already working on multiple pathways to decarbonise urban transportation, but electrification has emerged as one of the sure-fire methods. For tier-II cities, there are several obstacles to be overcome on this path, such as finding resources for introducing new electric buses, improving capacity building and also phasing out old diesel buses. But many are rising, very ably, to the challenge. In a key initiative, 11 cities – Bhopal, Bhubaneswar, Nashik, Navi Mumbai, Panaji, Kochi, Indore, Surat, Rajkot, Leh and Shimla – are working with the Transformative Urban Mobility Initiative (TUMI) E-Bus Mission City Network, led by ICLEI-Local Governments for Sustainability and the International Association of Public Transport (UITP), to accelerate the transition toward e-bus fleets within public transport systems. Through the network, the cities are receiving relevant information, shared knowledge and resources, including exclusive trainings, peer-to-peer exchanges, and more.
Additionally, cities like Surat, Rajkot and Indore are working to phase out all their diesel-run buses. While Surat aims to have a fully electrified bus fleet by 2025, Rajkot and Indore are working on introducing a mix of electric and CNG buses to phase out diesel-run buses.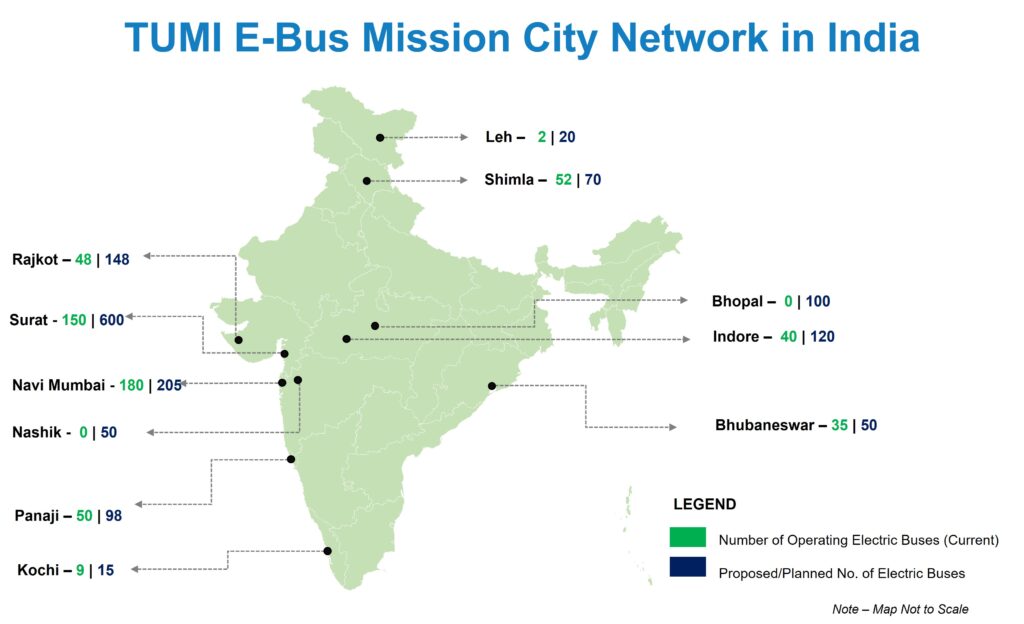 Meanwhile, Bhubaneshwar city's Capital Region Urban Transport (CRUT), via its MO bus initiative, has taken the electrification of public transport as an opportunity to add a clause under which women will comprise 50% of its MO bus guides (conductors). A fleet of MO e-rickshaws, driven by women, transgenders and HIV+ people, has also been launched to provide last-mile connectivity. Nashik, meanwhile, is tapping clean air funding to operationalise its fleet of e-buses. Cumulatively, the efforts of these cities have resulted in the deployment of 516 electric buses, with an immediate target of scaling it up to reach 1503 buses, which would comprise one-third of the operational bus fleet. A commendable feat when it is achieved, this initiative would also serve to enthuse other cities in the country to follow suit.
The Government of India had rolled out the FAME-II scheme to incentivise the deployment of around 7090 electric buses with a financial subsidy of Rs 3,545 crore. However, a revision in the scheme in June 2021 redirected the subsidies for e-buses to nine cities that have populations of more than four million (Mumbai, Delhi, Bengaluru, Hyderabad, Ahmedabad, Chennai, Kolkata, Surat and Pune).  In the absence of FAME-II subsidies, electric bus deployment became more unviable for tier-II cities. Even then, they are competing with the larger metros, as they are well aware of the crucial role they can play in the efforts to achieve India's pledge to cut its emissions to net zero by 2070. To that end, there is an urgent need to support them to smoothen the transition towards electric buses.
Read about the TUMI network cities' achievements.