Udaipur Becomes First Indian City to Receive Global 'Street for Kids' Training
ICLEI – Local Governments for Sustainability, South Asia (ICLEI SA) with support from Udaipur Municipal Corporation (UMC) and the National Association of City Transportation Officials' Global Designing Cities Initiative (NACTO-GDCI), recently hosted the 'Street for Kids' (SfK) International Training Programme for Udaipur.
Udaipur is the only Indian city among 12 cities selected globally by NACTO-GDCI to participate in the 'Designing Streets for Kids' training, following a competition launched in mid-2019, for which ICLEI SA filled a detailed application on behalf of UMC. The training content reflects NACTO-GDCI's extensive experience in working with cities across the world around street design transformations, policy changes and more.
Conducted virtually due to COVID-19 restrictions, the training spanned two weeks. It included activities such as WhatsApp exercises and quizzes for the participants to take over 10-20 hours based on individual pace. An introductory session, an interactive design workshop on NACTO-GDCI's online tool and a concluding session were held, with facilitation from GDCI, on the 10th, 15th and the 17th of November 2021.
The programme saw participation from representatives of all major service providers in the city such as the UMC, Urban Improvement Trust, Public Works Department, Traffic Police, Regional Transport Office, Project Management Unit and Project Management Steering Unit for Urban95 Phase-II, as well as local architects and planners, and technical personnel from ICLEI SA and the Bernard van Leer Foundation (BvLF).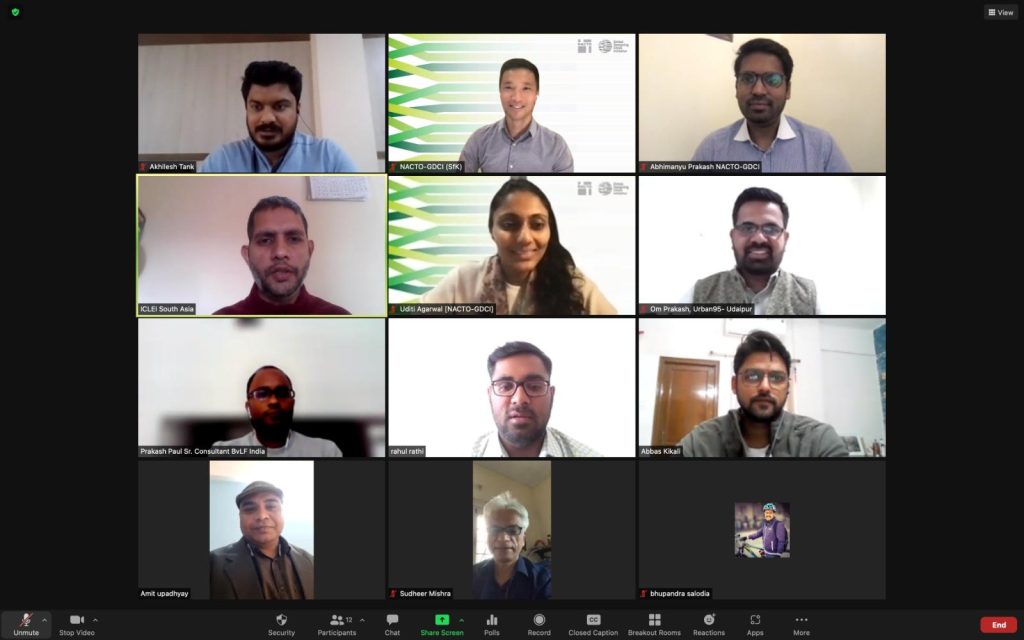 Speaking at the event, Mr. Emani Kumar, Executive Director, ICLEI SA, highlighted the importance of the training programme in making cities more engaging and interactive, and yet safer for children and their caregivers, and how it connected with the objectives of the ongoing Urban95 Phase-II programme.
Hon'ble Mayor of Udaipur Mr. Govind Singh Taunk expressed pride at the city's global recognition, while Mr. Himmat Singh Barhath, Commissioner, UMC said that the training would assist the implementation partners of Urban95 Phase-II, and extended UMC's support.
Ms. Rushda Majeed, India Representative, BvLF, said that with the successful implementation of Urban95 Phase-I and the beginning of Phase-II, Udaipur was headed towards becoming a child- and caregiver-friendly city in the true sense. She reiterated that the SfK program would prove helpful for Urban95 Phase-II as both shared a common objective.
Mr. Paul Supawanich, Associate Director of Programmes, NACTO-GDCI, explained how technical aspects of road design play an important role from the perspective of the safety and overall growth and development of children and their caregivers. He shared that the training has been designed to cover all aspects of an efficient and beneficial road design for children.